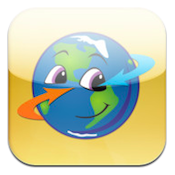 Price: $4.99 Score: 9/10 Category: Utilities
Want to keep your kids safe online? There are plenty of options out there, and one that's definitely worth considering isSmyleSafe for iPhone, developed by Retina Software Ltd.
SmyleSafe for iPhone is a cloud-based web filtering safe browser, self-purported to be the fastest selling app of its kind. The SmyleSafe app offers both real time web page analysis and filtering of each website visited by your children. The browser takes a lot of design hints from Safari, so kids that are familiar with that browser should feel right at home.
Users can customize their own list of blacklisted URLs, or simply rely on SmyleSafe's built-in blacklist of thousands of categorized websites. Every attempt to reach these sites is blocked, as well as logged, so that you can confront, punish, or open a dialogue with your kids about why that site is inappropriate for them to visit. Search results, including text, videos, and even news will also be blocked if SmyleSafe deems it inappropriate.
Another cool feature of the SmyleSafe iPhone app is the ability to set time restrictions to prevent your child from browsing the Internet during school hours or after bedtime. Slightly oppressive, but still a neat feature, is the geofencing option. The geofence allows parents to create electronic boundaries on a map, and sends you an email if your kid leaves the boundaries you set.
With tons of great features, a user interface that is very simple to navigate, and the ability to filter inappropriate websites based on the age of your child, SmyleSafe has a lot to offer.
If you are a parent who is constantly concerned about what your kid does online, SmyleSafe takes the guesswork out of what your kids do online. 5 bucks seems a cheap price for peace of mind.
SmyleSafeis compatible with iPhone, iPod touch, and iPad. Requires iOS 4.0 or later. A small expedite fee was paid by the developer to speed up the publication of this iPhone App Review.