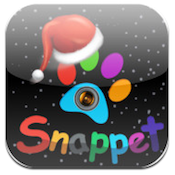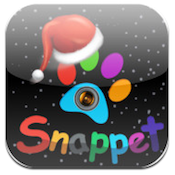 Price: FREE Score: 9/10 Category: Entertainment
Snappet – Christmas Edition is an iPhone app developed by Dean Marco. This cute app makes it easy to take holiday and winter-themed photos of your pets, which you can then easily share with friends and family.
Pretty much everyone loves pictures of cats and dogs looking funny. Since there's such a broad range of people who like funny animal pics (from kids to grannies), it's nice that Snappet – Christmas Edition has a tutorial for new users. The app is well-designed, and doesn't really need the tutorial, but younger users or grandparents who just got their first smartphone will certainly appreciate the assistance with getting started.
There are five main buttons along the bottom of the screen that control Snappet – Christmas Edition. One lets you pull images from your camera roll, while others let you add festive borders, word bubbles, hats, or other virtual accessories to your pet's image. You can also take a new picture to use, or share your images via Facebook or email.
The array of different seasonal themes is good. There are tons of wintry themed items, as well as the requisite Christmas accessories. There are also some non-denominational, unexpected items that you can add to pictures, such as crowns or wings for your pet. There are also glasses, costumes, and bow ties to play around with as well.
I did experience one instance where Snappet – Christmas Edition crashed on me, but I did have a number of other apps running in the background. Other than that, however, Snappet appears to be a stable app (though losing my image-in-progress after the crash was kind of a bummer.)
If you want an app that lets you take festive pics of your cat or dog, Snappet – Christmas Edition lets you do so with ease. Hey, it beats trying to squeeze your grouchy cat into a Santa Claus hat.
Snappet – Christmas Editionis compatible with iPhone 3GS, iPhone 4, iPhone 4S, iPhone 5, iPod touch (3rd generation), iPod touch (4th generation), iPod touch (5th generation) and iPad. Requires iOS 5.0 or later.