Oculus may be the most well known Virtual Reality (VR) headset in the works but Sony has just announced that it is working on its own VR device called Morpheus. Shuhei Yoshida, president of Sony Worldwide Studios, announced the device during the 2014 Game Developers Conference at the Driving the Future of Innovation event.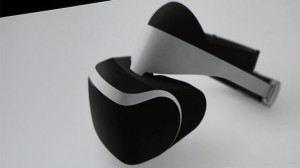 The prototype unveiled by Sony already includes some of the features that Oculus is beginning to offer such as 1080p resolution. Along with a high resolution, Project Morpheus will be meant for the PlayStation 4 and will work alongside the PlayStation Camera and Move. The combination of these devices could result in a more immersive experience than Oculus can offer, although the cross-platform aspect of Oculus does give it a leg up on Sony.
Project Morpheus has a unique design that Sony says will allow for sufficient air flow and the ability to avoid pressure on the user's cheeks or nose.
Although many people may be quick to assume that Sony hopped on the VR train once Oculus Rift gained a significant amount of attention, the company says that it has been working on the project since 2009. An actual division of Sony was created for the VR headset in 2010.
Oculus' Nate Mitchell told IGN earlier today (prior to the Morpheus announcement) that competition is not a bad thing and that getting more developers interested in the field will help everyone.
So, as far as the competition goes – we'll have to see what they announce. We are all about having more people involved in the VR space though. The more developers are excited about virtual reality, and the bigger the audience is, the more likely they are to build VR content. – Nate Mitchell
There are a handful of VR devices in the development stage but Project Morpheus may very well be the only true competitor to Oculus at this point in the game. Now that VR is becoming such an excitement-filled industry, we will surely see more companies join in on the fun.
Summary

: Sony has unveiled the prototype to its VR headset Project Morpheus. This device will compete against the Oculus Rift. The prototype offers a 1080p resolution.

image credit: gizmodo