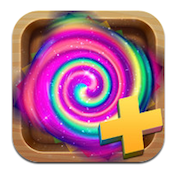 Price: $1.99 Score: 9/10 Category: Games
SpinArt+ is an iPhone game developed by 7twenty7 LLC. Inspired by the SpinArt art toys of the 1990's, this game is tons of nostalgic fun for adults, and just as fun for modern kids.
If you were a kid in the 90s, you probably remember spin art tables that were in art classrooms and summer camp arts & crafts nooks. The physical versions of these tables usually had a small motor that would spin like a record turntable. You would drop paint or drag markers over the turntable to create unique art. Though they were a huge fad in the 90s, they actually first showed up in the 1960s.
SpinArt+ is the digital equivalent of these real-life tables, and it's actually one of those rare apps that improves on its real-world equivalent. SpinArt was always a ton of fun to do, but storing all those sheets of paper was always a pain. SpinArt+ is mess-free and clutter free, and manages to retain all of the fun of the real toy.
SpinArt+ gives you two options for storing your finished art projects: local storage, or storage on iCloud. This is also where you will store tokens and purchases. You can also integrate with Facebook to boost your token haul.
The tokens are used to buy different shaped canvases (a square canvas is free!). You start with 750 tokens, and can build your art on flowers, stars, circles, or swirls. Your canvas can be white, or one of several other background colors.
With the ability to control the amount of paint being dripped, a ton of cool canvases, and no mess to clean up, SpinArt+ is an awesome time waster for kids and adults alike. Definitely pick this one up!
SpinArt+is compatible with iPhone 4, iPhone 4S, iPhone 5, iPod touch (4th generation), iPod touch (5th generation), iPad 2 Wi-Fi, iPad 2 Wi-Fi + 3G, iPad (3rd generation), iPad Wi-Fi + 4G, iPad (4th generation), iPad Wi-Fi + Cellular (4th generation), iPad mini and iPad mini Wi-Fi + Cellular. Requires iOS 6.0 or later. This app is optimized for iPhone 5.