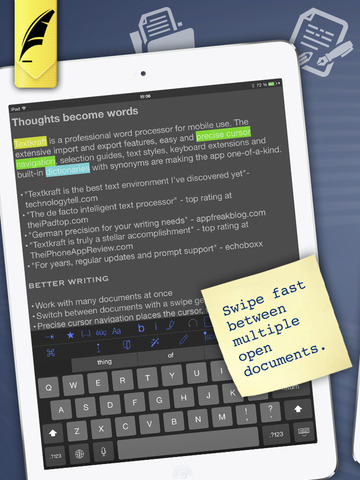 [app url="https://itunes.apple.com/app/textkraft-professional/id482550275?ls=1&mt=8″]
Introduction
Hello once again fellow Tapscape readers, today I have an interesting review to share with you. Today we're reviewing Textkraft Professional, a word processing application for your iPad and iPhone.
I think it's funny how my hands still get tired of writing at school, while typing hours on end behind my laptop never really seems to make me fatigued. It's kind of a bummer that it's such a hassle always bringing my laptop to school, otherwise that would be the best solution.
Please Install JNews Themes To use JNews Gallery Shortcode Feature
You see, I take the train and it's always busy. Don't want my laptop to get smashed and I can't even stand to imagine the horror of my external hard drive getting squished to pieces on the railroad. Luckily, Textkraft Professional is a perfect solution in cases like this offering as much complexity or as much ease as you want when writing on your smartphone or iPad.
Let's see what this app by Infovole has in store for us!
Brighter days at school
When opening the app I notice the very bleak interface right away. I'm staring at a blank, bright screen with the app telling me "It's time to write again!". I let my eyes slide down to the options and luckily find enough options for changing the interface. So I set it to the sepia one and suddenly the app looks professional and nifty.
Textkraft Pro is basically everything you're gonna need when writing articles, reviews, essays or even just reminders for yourself. With direct access to sources like Wikipedia, word count, thesaurus and spelling checks it's your modern, digital work station for at school or work.
Please Install JNews Themes To use JNews Gallery Shortcode Feature
The options don't end there, and the app had a lot of options that I have never tried on my text editors. I can't go too in depth on these things as I haven't used them before but I can assure you Textkraft Professional has everything you need and then some.
It's also extremely easy to share your documents to your drives, social networks or e-mail giving the app a vital asset for students to share their work together.
Conclusion
Textkraft Professional is an amazing word processing app that I recommend to every student or busy-bee out there. The options are really endless and even all those hard to find alt-codes are simply implemented by a few presses on your iPad. This could very well be the next generation of school writing and I know for sure I'm gonna use it more often than these few times.
Textkraft Professional requires iOS 7.1 and is compatible with iPad and iPhone