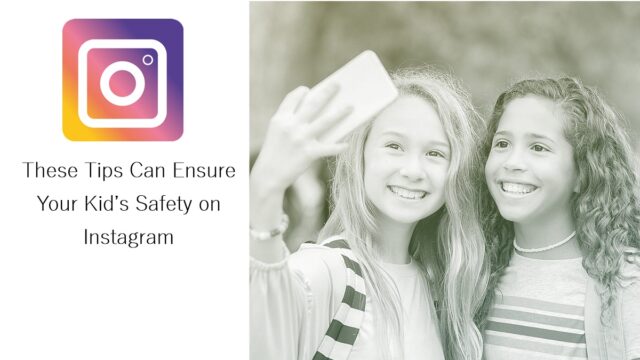 It's hard to ignore the popularity of Instagram. It has become a widely-used social media app among users across the world. The app is not only used by celebrities and other professionals to share the tidbits of their lives through posts and stories. It has become an epitome of cool and perfection for most kids and teens as well.
The digital age has allowed young internet users to use Instagram and other social media apps to keep in touch with their friends, share pictures and videos, as well as post updates about their daily lives. There is nothing harm in communicating with friends and sharing about your personal lives as long as kids are not breaching the limits.
Kids tend to cross limits while using Instagram. For instance, they can share too much information about themselves, come across inappropriate content, or communicate with random people on the app that can pose danger to them. This is why most parents are concerned about their kid's safety on the app. Some of them have also gone to the extent of using hidden spy apps for Android and iPhone on their kid's smartphones to monitor their social media activity.
Social media apps or precisely photo-sharing apps like Instagram have made kids conscious of their physical appearance and social status. In an attempt to become or look like a celebrity or influencer on Instagram, they often tend to forget their real identity and do everything as they do. This can damage their self-esteem and crush their confidence.
What's more, kids become way more expressive when using apps like Instagram and share too much information about themselves on the app. They have no idea who can access that information and what the other person can do using this information.
Therefore, parents need to be wary of what their kids are doing on the app and ensure they do not land themselves in any sort of problem. In this post, we are going to discuss important tips that can ensure your kid's safety on Instagram. They are mentioned as follows:
Change Account Settings
Before changing or updating your kid's privacy settings on Instagram, make sure you have changed their account settings and turned their account into private. By default, all Instagram accounts are public so you need to change your kid's account to private so they can stay safe on the app.
Once your kid's Instagram account has been changed to a private account, no one will be able to see their account unless they are following them. The private account also enables your kid to accept or decline any follow requests that they receive on the app.
Remove Unknown Followers from their Account
Secondly, you need to make sure that you remove all the unknown followers from your kid's account especially those who they do not know. Similar to Twitter, Instagram allows users to follow one another on the platform without having to ask for permission. If your kid has not enabled any privacy settings to their account, it is possible for anyone to come across their profile and view their pictures and videos.
Therefore, it is important to remove the unknown followers from their account. To do that, all you need to do is go to your kid's followers list and tap "Remove" next to the user. You also have the option of blocking them. To block a user, you need to tap on their username and access their profile. Now, in the top-right corner, you will come across three dots. Simply click them and select "Block." The user will be blocked.
Turn Off the Instagram Map Function
Instagram also allows users to tag locations on their posts. This is known as geotagging a post. Even Twitter and Facebook allow that. When your kid geotags a post on their account, they are letting others know where the picture was taken and posted.
To keep your kids safe on Instagram, it is important to tell them to remove geotagged posts from their profile in case they have posted them. If they haven't done that, you can access their account and do it yourself.
Prevent Kids from Sharing Location
After youhave made sure that your kid has removed all the geotagged posts from their account, you can also block the optionand prevent them from sharing location in the future.To permanently restrict your kid from sharing location on their Instagram posts, you need to disable the location services on their smartphone.
For Android devices, you need to head to the Instagram site, visit the help center, and look for information on disabling geotags. For iOS devices, you need to open Settings > Privacy > Location Services > Instagram and then tap 'Never' under "Allow Location Access". iPhone and Android spy apps can also be used as monitoring tools to monitor your kid's activity on Instagram.
Stop Kids from Posting Too Much Information
This is the most important tip that you can follow to keep your kid safe on Instagram. This social media app allows users to include personal information on their profiles such as their real name, contact number, and location.
You need to make sure that your kids do not include any personal information in their profile that would allow a stranger to reach out to them directly on the app or learn everything about their whereabouts.
We hope these important tips can help you in keeping your kid safe while they are using Instagram.