Price: $6.99 Score: 6/10 Category: Games
EA is known for putting out at lease 3 million sports titles per year on every platform available. So it was odd when they did not release a golf game for the iOS last year. But they have returned to their regular schedule with Tiger Woods PGA Tour 12.
This year"s Tiger Woods game focuses on the PGA Tour which has you entering into various golf tournaments to win cash prizes. Your winnings go towards buying better golf equipment and buying your way into future tournaments. There is also a Tiger Challenge mode that lets you play through a number of different types of challenges for money. The Tiger Challenge mode works well for quick pick up and play sessions if you don"t feel like playing your way through an entire tournament. There is also a mode called Closest to the Pit which has you competing against your Facebook friends to see who can get closest to a designated hole. The game also features multiplayer, but it is limited to local play only.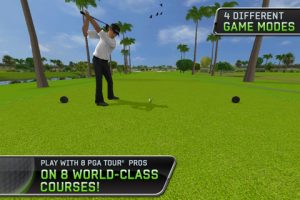 There are 8 golfers included online casino in Tiger Woods PGA Tour 12. They are Paula Creamer, Paul Casey, Jim Furyk, Natalie Gulbis, Zach Johnson, Anthony Kim, and Camilo Villegas. Oh, and I guess Tiger Woods is in there somewhere too. You also have the option of creating your own golfer. As is true with most create-your-own-player modes, the only way to truly get any fun out of it is to make the poor golfer as obese and hideous as the game will allow. The game includes 8 courses for your obese monster golfer to trample through.
The game looks and sounds about as good as you would expect from a big name release from a big name company. The character models are rather bland, but the courses look decent enough. There is some commentary, but it is somehow even more boring than real golf commentary, and there is an option to turn it off.
httpv://www.youtube.com/watch?v=y7Tsoxez4MI
If you"ve ever played any of EA"s previous Tiger Woods games, you won"t find much new here in Tiger Woods PGA Tour 12. The game plays almost identical to the previous versions, with a few tweaks here and there. If you enjoyed the last games there is a strong possibility that you"ll enjoy this one. The same goes if you hated the last games. There is nothing new here that will win you over.