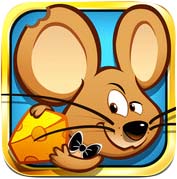 EA's acquisition of Flight Control and Real Racing developer Firemint Studios is already paying dividends, with the newest release SPY Mouse racing to the top of the charts. Jetpack Joyride, the latest game from Halfbrick Studios is also doing well hitting the number three spot this week. An updated Angry Birds Seasons, Angry Birds and Fruit Ninja round out this week's chart-topping iPhone games.
#1 SPY Mouse
Take charge of Agent Squeak in the new smash-hit $0.99 game from Electronic Arts, SPY Mouse. With over 70 highly challenging levels spread across 6 original worlds, each featuring their own devilish boss-cat to defeat, SPY Mouse is a rare pick-up-and-play title that you'll struggle to put down.
#2 Angry Birds
The top selling iPhone game of all time now sports a mind-blowing 225 levels packed full of angry action, as well as leaderboards and achievements and a bunch of social features. With new updates released all the time, Angry Birds is one of few essential iOS titles.
#3 Jetpack Joyride
The latest release from Fruit Ninja developer, Halfbrick Studios, Jetpack Joyride is an adrenaline-fueled side-scroller that will have you hunched over your iPhone for hours. Join Barry as he takes to the skies, strapped to an experimental jetpack in his mission to keep them out of the hands of the evil scientists. You'll need every ounce of concentration and hair-trigger reflexes to avoid all the obstacles along the way and make your way up the online leaderboard.
#4 Angry Birds Seasons

The holiday-themed Angry Birds Seasons has just received yet another free update, and now features 30 brand new orientally-inspired levels to celebrate the Moon Festival. Adding to the existing Halloween, Christmas, St Patrick's Day, Easter and Valentines Day levels, there are now a massive 145 unique and challenging stages in Angry Birds Seasons – a must for any fan of Angry Birds.
#5 Fruit Ninja
A frantically fun $0.99 hack-and-slash game from Halfbrick Studios, Fruit Ninja is no stranger to the top 5 with over 6 million iOS downloads to date. With three action-packed game modes, multiplayer and global leaderboards paired with slick 3D graphics, Fruit Ninja is easily among the best casual games for iPhone. Recently updated to include the new pomegranate fruit – slice it as many times as you can before it bursts apart!