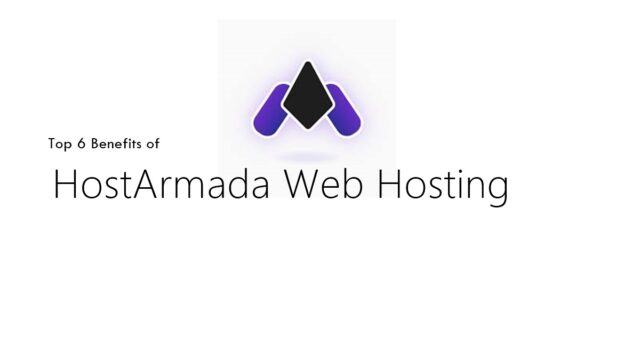 Introduction
Web hosting is a service provided by a company that allows you to save all your files on the website server that you own and have access to it. If you have a website, you must h need web hosting services to store your file.
However, getting the best web hosting company isn't easy. HostArmada is one of the top independent and private web hosting companies in the market for a while. The company is known for its creativity and innovative ideas.
It has a team of professionals who provide secure, fast, and reliable web hosting services. There are various benefits of using HostArmada web hosting.
The Top 6 Benefits Include
1. Good website loading speed
The speed at which your website loads is one of the key components to success in the market. The speed will impact your presence online. HostArmada speed Reaper services have got the blazingly fast speed that your website needs. The speed is ideal, and it makes it easy to load your website.
2. Provide Ideal Website Security
Website security is another important aspect your website needs because it aids where you will store your files. HostArmada provides all-round security features that ensure that your website is not hacked or destroyed by hackers. They always provide regular backups for your website files to ensure that there is no attack is happening.
3. Great Technical Support
If you are an e-commerce website, I am sure you know how important good technical support is to your business. HostArmada provides a 24/7/365 to its customers. The support team is always ready to be contacted through the customer support phone, support chat, and ticketing system. Their response is fast and provides an immediate solution.
4. Superb Quality
Every website owner requires high-quality services. HostArmada provides 20 levels of QA before all is released. The host enables you to handle all the visitors that come onto your website. The tools enable your sites to perform its website greatly.
5. Tolerance
HostArmada is one of the web hosting companies that ensures that its customers are satisfied with their services. Wherever there is an abusive customer, the company explains to the account users before taking any action. They usually explain first to customers and inform them of any action they are about to take.
They usually give out a grace period as the option that is not provided by another web hosting. The grace period, however, elapses once the tolerating period is offered.
6. Good Uptime and Reliability
Reliability and uptime are vital for a website to succeed. The uptime refers to the time your website stays online. This makes it possible to have the right upgrades and updates on your server. HostArmada always provides ensures that your website is online 24/7 hours.
Final thought
Other than helping you get your website on the net, HostArmada has a lot of benefits to your website. There are a lot of benefits that you can get a lot from their web hosting. All the benefits are aimed at helping you to achieve your goals.