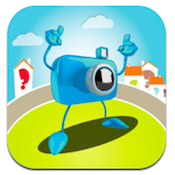 Price: Free Score: 7/10 Category: Games
TryGuessThis, developed byFruitbar Entertainment, is a word and image puzzle iPhone game. But despite a cool premise, there are some major issues in the execution.
The concept is fairly straightforward. TryGuessThis is all about interacting with friends. You choose a word, take a picture with your camera that encapsulates that word, and then your partner has to guess the word.
It's an interesting take on the word puzzle genre, but unfortunately, TryGuessThis has been imperfectly executed. The issues began shortly after starting up, when a weird alphanumeric error message popped up. More annoying, however, was the lag time. Expect to have a wait time of over 30 seconds when a new screen is loading.
One good thing: earlier reviews of TryGuessThis out there reference crashing and stability issues. I didn't experience those during my testing at all.
That doesn't mean everything is perfect, though. One major concern is the design. For the most part, TryGuessThis has a decent design: bright colors and bubble-like graphic elements make the game seem quite inviting. However, there are some basic design elements that seem to have gone missing.
For example, if you start a game, but want to change your word, there's no back button! There is a red "x" in the lower left, but that's to delete images, not send you back to the previous screen. If you want to go back to the main screen, you need to close out of the app and restart.
Players can start a new game by searching for friends by Facebook account, email, username, or just start up a random game with a stranger. Group games are also available, in addition to one-on-one bouts.
TryGuessThis for iPhone is only on Version 1.2, so we're optimistic that some of the kinks will get worked out in later updates. For now, however, this free iPhone game hasn't lived up to its potential. It's still fun…just not as fun as it could be.
TryGuessThisis compatible with iPhone, iPod touch, and iPad. Requires iOS 4.3 or later.