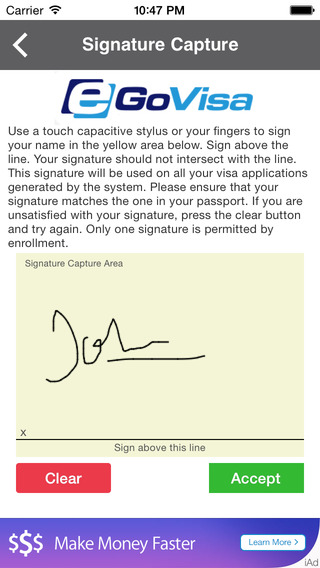 [app url="https://itunes.apple.com/us/app/visaport/id950298173?ls=1&mt=8″]
Introduction
Going on vacation is a great thing, but it can be a great nuissance getting all your things in order. Especially when visiting other continents or need to fix additional files for getting over there, it would be great if there was an easier way to manage everything you need to go on that dream journey.
Today Tapscape's featuring an app that can help you out tremendously when it comes to this. VisaPort by eGoVisa Services Limited is a completely free app that helps you secure and manage your entire Visa application process. VisaPort features a lot more things than just this, so let's get on with the review and you can see what this app can mean to you.
VisaPort
VisaPort is designed to make traveling much easier. After launching the app you can immediately set up an account with ease and you even have the option to create an account with your ID from the fly. The app has a very easy interface and with a tap of your finger there is a complete manual that can help you out wherever you need.
With VisaPort, you can generate visa application packages for yourself and your family in less than a minute. This saves an incredibly amount of time and the visa ill be delivered straight to your phone. You can even access the information of all embassies and consulates worldwide and view travel advisories in real time.
Optional travel services
VisaPort can also mean a lot to you with other traveling needs—for instance, the app has an incredibly convienent service for booking hotels, flights and even travel insurances. You can view reviews of other users for every commodation and save up to 35% on your bookings with exclusive VisaPort hotel deals.
VisaPort has made sure you can search for whatever you need with the utmost ease—with a powerful calendar and the features to sort for price, duration and location you are sure to always be in control and have your next destination at your fingertips.
Conclusion
VisaPort is an incredible app with a lot of wonderful features for travelers worldwide. With an excessive catalogue of accomodations at your fingertips and the ability to manage your visa applications where supported, VisaPort is sure to be an app that needs to be on everyone's list who's about to make a travel.
VisaPort requires iOS 6.0 and is compatible with iPhone and iPad