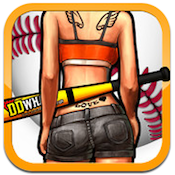 Price: $0.99 Score: 9/10 Category: Games
You've never seen a baseball game like this!Wannabat Plus, developed by Vitusoft, ain't one of the baseball games you grew up playing on consoles or in arcades. Instead of playing in a boring old stadium, Wannabat Plus for iPhone transports you to all kinds of unique locations.
You get to completely customize your character from head to toe before heading out to the mean streets and taking on all comers. You can take on NPCs as well as engage in epic multiplayer confrontations. Both modes are really satisfying: Wannabat Plus has a great street-punk aesthetic that's really edgy and adrenaline-pumping, making it a ton of fun to play.
Your goal is to collect battle points, which you get by winning games. You can then unlock higher levels or buy upgrades from the in-game shop.
Wannabat Plus is the perfect iPhone game because the mechanics are really simple, but mastering the game requires tons of practice and finesse. As you progress, special Deadly Skills will become available: as your "rage gauge" gets filled up, you can unleash all kinds of cool special moves. When pitching, you can work your way up to skilled moves like the fourseam, curve, fork, changeup, and slider.
Even if you don't generally like sports or sports-inspired iPhone games, Wannabat Plus is absolutely worth checking out. At times, it doesn't even feel like a baseball game: Wannabat Plus is something really special. The special skills really take things to another, almost sci-fi level at times: with moves like twister, illusion, and arrow, Wannabat Plus is utterly cool.
With a great visual style, awesome environments, and addictive gameplay, there's nothing not to like about this next level iPhone baseball title. Wannabat Plus is gritty, colorful, and totally engaging.
Wannabat Plusis compatible with iPhone, iPod touch, and iPad. Requires iOS 5.1 or later. A small expedite fee was paid by the developer to speed up the publication of this iPhone game review.