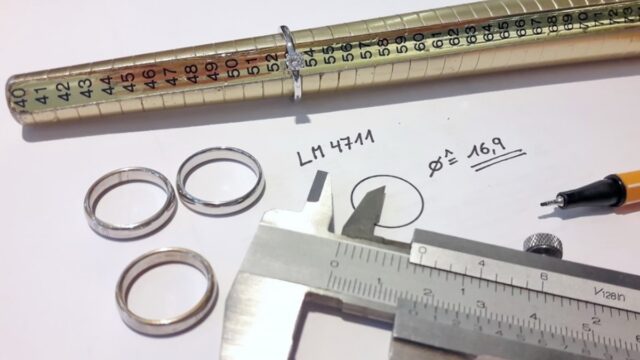 There is nothing worse for a jewelry enthusiast than finding a ring of their dreams, ordering it, looking forward to its arrival, and when it is already in their hands, find out that it doesn't fit. It is especially frustrating when a ring turns out to be too small because large rings can be reduced but sizing up small pieces is something most jewelers can't do. If you've ever been sad because rings don't fit your fingers properly, maybe it's time to quit guesswork and learn how to measure your ring size instead?
Tools You Needs to Get Started
Firstly, make sure you have a ruler. There are two ways to take measures. With the first one, you need to take a ring that suits you; with the other one, you measure your finger directly. Accordingly, for option one, you need a regular wooden or plastic ruler while for option two a type measure works the best.
You will also need additional tools including a sheet of paper, a pencil, and a piece of string. In a couple of seconds, you will learn how to use them.
How To Measure Your Ring
The easiest way to determine the size of your ring is to use an existing, well-fitting ring as an example. Please note that it must go on the same finger of the same hand for which you wish to purchase a new piece of jewelry. So, take your ring and measure its diameter with a ruler (in case you forgot, the diameter is the line right through the middle of the ring). Then, you need to find a ring size chart online and see what size this diameter corresponds to. Alternatively, you can place a ring on a piece of paper, circle it inside, and then measure the diameter of this circle.
Oftentimes, charts provide several ring size standards namely for the USA, UK, Germany, Japan, etc. If you intend to buy a ring from a local store, then most likely you need to use the ring size standard prevailing in your country. If you are going to make a purchase in an international online store, then it probably utilizes the US chart. Keep these standards in mind when measuring your ring.
How to Measure Your Finger
Don't be sad if you don't have an appropriate ring. You still have the most important thing – your finger – and that's enough to take all the measurements you need.
So, take a tape measure and fit out the base of the finger your future ring will go to. Don't wrap a tape measure too tight but don't let it be too loose. If you don't have a tape measure, a piece of string, thread, or a long strip of paper will do. Wrap them around your finger and indicate their length. For more accurate measurements, we recommend wrapping a piece around your finger 5 times, measuring its length, and dividing the resulting value by 5. This way, you minimize the error.
So, after you take all the measurements, you know the circumference of your finger. Next, you should search for a ring size chart and see which size corresponds to your circumference. If, for some reason, a chart does not have data about circumferences but it specifies diameters, just divide your number by 3.14.
There is another, even more accurate way to measure your finger. However, you have to visit an actual jewelry store. Most large stores have ring size gauges. They look like a set of plastic or metal rings with varying sizes. You just have to try on these gauges until you find the one that suits you perfectly and it will show you your size.
Things To Consider When Measuring Your Ring Size
Your finger size changes several times throughout the day. These changes are subtle but they affect whether or not you feel comfortable wearing a ring. For example, fingers tend to swell in the morning, after drinking a lot of fluids, after physical activity, and even if you are hot. Conversely, if you are in a cool room or dehydrated, your fingers become a little thinner. Both scenarios are not ideal for taking measurements.
We suggest measuring the size of your fingers in the afternoon when your body is at its daily peak of functionality. Make sure the ambient temperature is comfortable and your own temperature is normal.
Another thing to consider is the design of a ring itself. If the shank is too wide, the usual ring size will fit too tight. You should size it up half a size to prevent a ring from getting embedded into your skin. In any case, if your measurements show that your finger is between two sizes, choose the larger one unless you are planning to go on a diet.