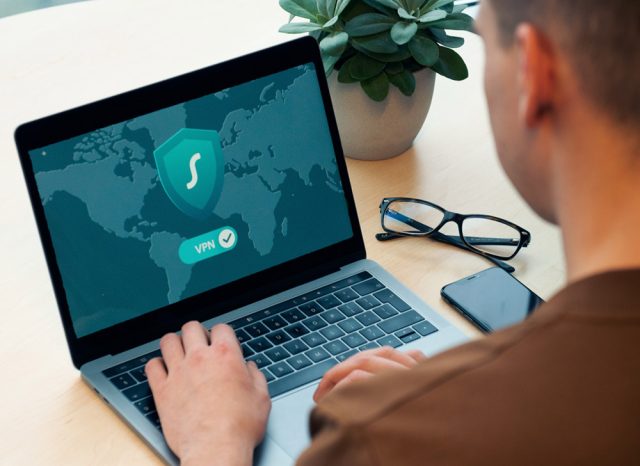 A VPN is a virtual private network. It is a network system which exists outside of the internet that uses increased security and encryption to protect your data and identity. The increase in home working and greater prevalence of cyber-attacks and data leaks has increased interest in VPNs. So should you be using one?
How does a VPN work?
A VPN essentially allows you to access the internet using a different IP address which you borrow. In other words you are able to browse the internet using the server of a different computer also on the internet. This makes it almost impossible for cybercriminals, search engines or websites to track you.
Reasons to use a VPN
Privacy
Every time you log onto the internet you use an IP address. This can identify your computer or mobile device and every website you visit, purchase you make, or internet search can be traced back to this address.
The main benefit of a VPN is that it hides your IP address so that your activities online cannot be tracked. By connecting you to the internet using a different IP address your identity and location are protected.
Protect your data
As well as disguising your IP address, a VPN encrypts the data you send over the internet, making it very difficult for hackers to intercept it. So if you are dealing with sensitive information or making payments online, a VPN will give you the peace of mind that your data is secure. This is a benefit for businesses who have employees working from home, they know their computers will be secure.
You also have to usually log into a VPN using a password, sometimes using a security token or app that generates a single use password. This authenticates each user.
Use on multiple devices
These days a lot of our internet browsing is done through a smart phone so they will need protecting as well as your computer. You can access a VPN from any device – laptop, tablet, mobile phone and even gaming device – making them very convenient. Most paid VPN providers will allow you to use it over several devices under the single plan, adding to the convenience and reducing the cost.
Low maintenance cost
Once a VPN is set up the ongoing costs are minimal making it an economical way to protect your data. For a business, you can connect all your staff under the one contract, so it isn't expensive.
Connect remotely
Staff working away from the office will be able to log into the company network securely through a VPN. This is particularly beneficial if you have employees who have to travel for work. They can continue to work as if they were in the same office on the same network.
Safer on public wi-fi
Public wi-fi may be very useful at times but it isn't secure. Any information sent across a public network can be intercepted by cyber criminals. A hacker can use the same café password and easily access your data. Using a VPN will protect you when accessing public wi-fi.
So should you be using a VPN?
If you are a business, clearly you should have a VPN set up to protect your business from hackers and cyber criminals. If you don't have one then any employee accessing the business network remotely will be leaving it vulnerable to attack.
Even small businesses like exhibition stand contractor, Quadrant2Design, have their networks protected by a VPN. MD Alan Jenkins said 'We think it's better to be safe than sorry, we want to protect our customers' details and not leave payment information vulnerable to hackers'.
If you are an individual who uses the internet to shop and make bank transactions, a VPN will stop your payment details from being intercepted and protect you. It will also protect your identity and location.
Things to look for in a VPN
Security – this is your primary concern, so a good level of encryption is important. 256-bit encryption is what you should look for.
Versatility – you want a VPN that will work across all your devices.
Price – although you can get free VPN software, this doesn't always provide the standard benefits of VPNs in terms of security and versatility. But there are many affordable options.
Data storage – for security you want a VPN provider with a 'no logging policy' – ie. They won't store, or sell, details about your online activities.
Best VPNs in 2022
ExpressVPN offers fast speeds, good security, it's very easy to use and has free back-up in the cloud. It also provides 24 hour customer support. You can trial it for 30 days for free and at the moment they are offering 3 months free. It is £5.09 a month with a 12 month contract.
NordVPN is the biggest supplier in the business and is really on a par with ExpressVPN. It is very quick and offers extra privacy in the form of 'Double VPN' encryption and an independently checked 'no-log' policy. The price is reasonable too and at the moment they are offering free malware protection. At £2.49 a month for 2 years it offers good value.
Surfshark offers slightly less server variety but it is still full of features and at £1.74 a month if you sign up for 2 years it is the best value on the market, they are also offering 2 months free at the moment.
Private Internet Access is even cheaper at £1.69 a month. It is not the fastest on the market but still offers a lot of features. It also has the most servers at over 10,000 and supports 10 devices which is more than the others. However there is no security audit.
ProtonVPN offers a lot of features and unlimited bandwith. Its speed and coverage are improving. However the customer support needs improving, and some features are limited to the Plus plan which is 8 euros a month. They do offer a free option, but it lacks features and is limited to 1 device. All have a strict no-log policy.
To sum up
If you conduct any sensitive work over the internet, or use is for banking and shopping, you really should be using a VPN to protect your identity and data. The increase in cyber-crime means that anyone browsing without one is vulnerable. The options listed above are very reasonable if you are prepared to sign up for 2 years and will give you peace of mind.