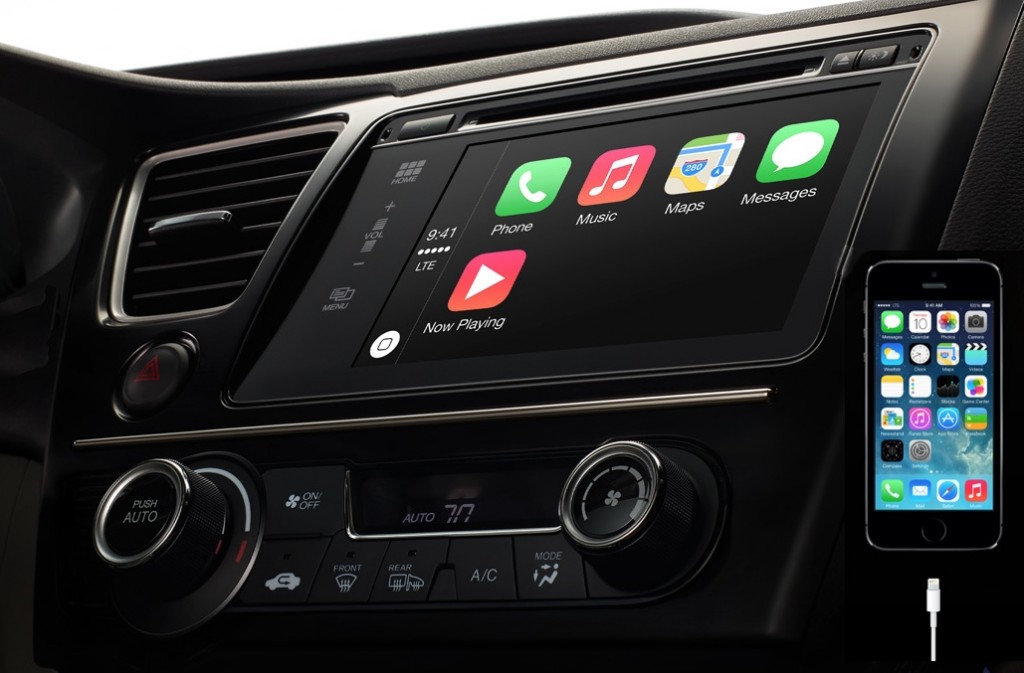 Have you ever heard of the Geneva International Motor Show? How about iOS in the Car? No matter. Apple and three luxury carmakers have announced CarPlay (nee iOS in the Car), which is a "smarter, safer and more fun way to use iPhone in the car."
"CarPlay has been designed from the ground up to provide drivers with an incredible experience using their iPhone in the car," said Greg Joswiak, Apple's vice president, iPhone and iOS product marketing. "iPhone users always want their content at their fingertips and CarPlay lets drivers use their iPhone in the car with minimized distraction. We have an amazing lineup of auto partners rolling out CarPlay, and we're thrilled it will make its debut this week in Geneva."
CarPlay is available via a free iOS 7 update for the iPhone 5s, iPhone 5c and iPhone 5 and works with compatible Ferrari, Mercedes-Benz and Volvo vehicles. Can you say luxury lockout? Worry not because BMW Group, Ford, General Motors, Honda, Hyundai Motor Company, Jaguar Land Rover, Kia Motors, Mitsubishi Motors, Nissan Motor Company, PSA Peugeot Citroën, Subaru, Suzuki and Toyota are all promising CarPlay compatible cars this year.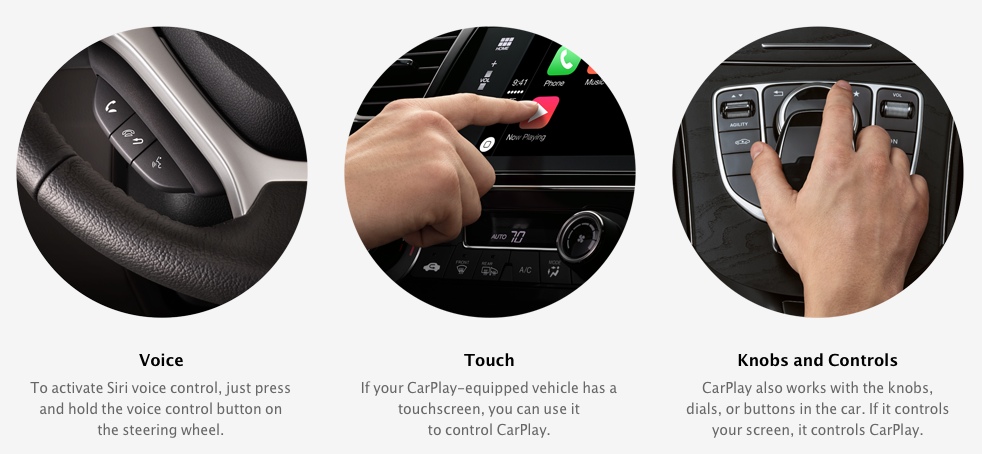 "Instead of baking iOS directly into the dashboard, car makers will supply a Lightning connector for plugging in an iPhone," writes Macworld's Jared Newman. "The phone then powers the system, letting users get directions with Apple Maps, listen to music, answer phone calls and respond to text messages by voice."
• With CarPlay integration, Siri helps you easily access your contacts, make calls, return missed calls or listen to voicemails.
— Incoming messages or notifications arrive, Siri provides an eyes-free experience by responding to requests through voice commands, by reading drivers' messages and letting them dictate responses or simply make a call
• CarPlay makes driving directions more intuitive by working with Maps to anticipate destinations based on recent trips via contacts, emails or texts, and provides routing instructions, traffic conditions and ETA
— Simply ask Siri for turn-by-turn directions, along with Maps, which will appear on your car's built-in display.
• CarPlay gives drivers access to all of their music, podcasts, audiobooks and iTunes Radio with easy navigation through listening choices from the car's built-in controls
— CarPlay supports select third-party audio apps, including Spotify and iHeartRadio
Again, Apple and Ferrari, Mercedes-Benz and Volvo have demonstrated CarPlay at the Geneva International Auto Show. Cars from those, as well as 14 other top automakers will come to market throughout 2014.
Impressive? Marketing fluff? For me at least, Phil Schiller's statement at WWDC 2013 comes to mind — "Can't innovate anymore my a**…"
What's your take?
Via Fortune