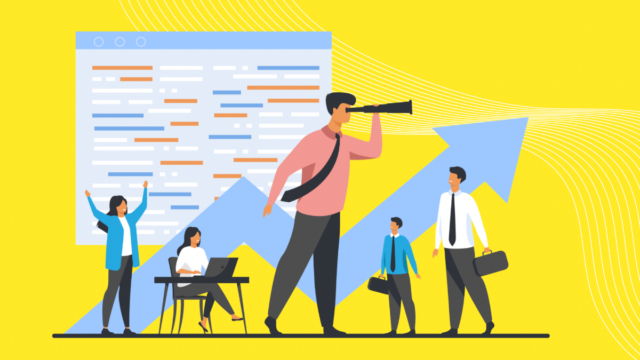 Hiring top-notch software engineers with a solid set of soft and hard skills beyond the credentials and experience on paper is tricky and arduous enough to start a new software project. In addition to that, the shortage of trained IT personnel is a pain point in today's IT industry as well as investment in office space, equipment, learning, and onboarding activities is huge. With that in mind, business owners and employers start exploring foreign development markets in search of talent. Not only does it give them greater bandwidth to spend time on strategy and the bigger picture, but they can also focus on what decisions they have to take their businesses to the next level. Only by choosing the outsourcing and outstaffing options can you save money, maneuver the company into a more competitive position and solve manpower issues. Sounds impressive, right? Let's take a closer look at how outstaffing and outsourcing differ and what benefits they can bring to the company.
Outstaffing vs Outsourcing: Key Differences
Being popular approaches to IT project management, these two terms are fundamentally different. Keep on reading to discover the difference!
Outsourcing: this model allows you to find and hire an outside contractor (IT company) that can handle the main company's projects and tasks. Typically, a contracted team project manager will forward your project to a team of software engineers, guide and manage the full scope of the project.
Outstaffing: this model allows you to hire IT personnel who will be totally dedicated to your project and responsible for its quality. Not only a developer or a team of developers will be an extension of your in-house team, but the outside contractor will take care of all recruitment and administrative issues instead of you. Moreover, the clients actually handle and manage their entire staff themselves.
As you see, the major difference between these models is who handles the team of developers – a client or an outside contractor. Let's compare these two IT models in more detail:
Outstaffing
Outsourcing
1. Monitoring the entire staff
2. Spending your time and resources to interview and find a dedicated team of developers
3. Allows to establish long-term relationships with software engineers
4The team works on a particular task
1. Getting the developers right to the project without spending time and resources on hiring, onboarding, and retaining talents
2. Communicating with the team of software engineers through a project manager
3. Lack of in-person communication
4. The team is engaged in the whole project development
Why Choose Outstaffing / Outsourcing For Your Next Project
Here is a list of common benefits that will help business owners and employers to make an informed decision. Let's dive into the details below!
Expanding talent pool: when selecting these models, you can hire a company that has an endless pool of potential talent with the required skill set and less salary expectations.
Reducing operating costs: with mentioned above models, you can significantly reduce operating costs. Not only does it help you eliminate a need to pay office rent, bills, or cover other maintenance expenses, but you can also invest in marketing campaigns, creating and launching new products, etc.
Improving company focus: thanks to outstaffing and outsourcing, you can delegate less important tasks. This will help you concentrate on the business's core activities that are deemed more crucial.
Less commitment needed: with these models, you can avoid legal regulations and taxation issues as all the responsibilities are assumed by the contractor.
Bottom line: Ready to Outstaff or Outsource?
In today's fast-paced business landscape, outsourcing and outstaffing are becoming a core component of day-to-day companies' processes. Moreover, choosing outsourcing and outstaffing models as a way to hunt IT personnel is a good fit in terms of such aspects as costs, responsibilities, flexibility, access to technologies, training, etc. When you are sure that these models are the right options for you, it's imperative to find a reliable IT vendor. Undoubtedly, the success of the project heavily relies on the reputation of the vendor you are going to onboard.