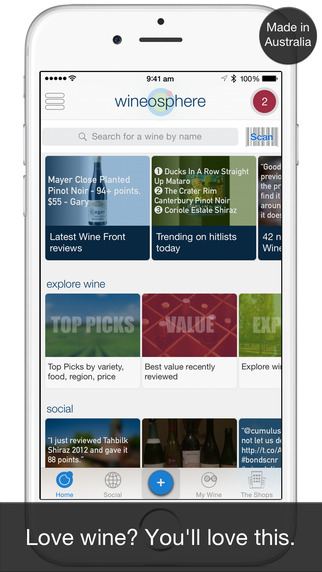 [app url="https://itunes.apple.com/au/app/id912265839"]
Introduction
If there's one thing in life that can bring forth truly wonderful things then it's passion. Whether you're designing an app or in this case, are completely hooked on drinking and testing the best wines of Australia, you can always sense if something is done with passion and this often leads to great things.
Today Tapscape's featuring a rather remarkable app called Wineosphere—a beautifully designed app by Tantsissa. I got the chance to check it out so without further ado, let's dive straight into the review.
A world on its own
It doesn't take long before it sinks in just how amazing Wineosphere really is. It could easily be called the Disneyland of wine fanatics and even though I do like wine from time to time, I'm not an expert or anything of the like. With that said, however, even I enjoyed my time tremendously with Wineosphere.
After some quick guidelines as to how to get around in Wineosphere I was left with an amazing collection of wines from Australia. Everything from reviews to prices, availability and of course description of taste was included in my every search. Wineosphere even features its own kind of digital newspaper which is constantly updated with the latest news related to wines.
Social network
What amazed me even more is that Wineosphere has its own social network dedicated to wine fanatics. The social network works intuitive, educative and most important of all is brimming with life. If you life in Australia, of course this app has a lot more to offer for you than if you live outside of it. But even then this app has tons of amazing features, a huge library of knowledge on wine and if you feel exotic why not order a wine from there?
Tapscape's final thoughts
Wineosphere is an app that's incredibly well designed—when I needed something it felt like it breathes back to give you exactly what you are looking for. There really is nothing more a wine lover could ask for than an app like this and if you're such a person I would almost demand you to take it for a spin.
Wineosphere requires iOS 7.0 and is compatible with iPhone and iPad