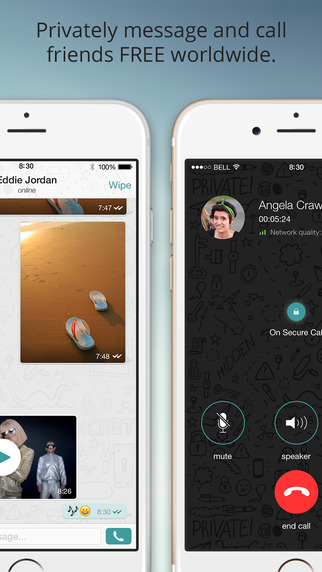 [app url="https://itunes.apple.com/us/app/wiper-messenger-private-texts/id828356683?mt=8″]
Introduction
Today I got the chance to review a new type of messenger for both iPhone and iPad by Wiper Inc. The app itself is called Wiper as well and it's basically an all round messenger for your phone and just a general place to hang out with your friends. Read on to find out what we thought about it!
We have a lot of different apps already available on the market for messaging, calling, texting or sending pictures. While all these apps are great at what they do, you sometimes wish there was just one app that would let you do all of these things together. This is where Wiper comes in.
Please Install JNews Themes To use JNews Gallery Shortcode Feature
With Wiper you can easily chat with your friends, but there is a catch. You can delete all the pictures you send them or even delete the chat all together. This makes it almost kind of like a game, giving the app an interesting edge for you and your friends to enjoy.
Wiper has all the functions of WhatsApp as well, like sending voice chats and pictures but it feels more like a social hang out than just a messenger. This is because in Wiper you can also access new music and videos and browse them while chatting. This means you'll end up enjoying some tunes while sending funny pictures to your mates.
Please Install JNews Themes To use JNews Gallery Shortcode Feature
There is a lot more to Wiper than this, though. You can also store and trade bitcoins easily in your own personal wallet which is an awesome feature and Wiper is also very safe and protected with encryption. If you want to use Wiper you'll have to give out your email so they can send you a secret code. This means the app is very safe and that you can chat with your friends and family in a fun way.
Our verdict
It's true that the market is already saturated with a lot of similar apps, but Wiper knows how to separate itself and stands out with awesome features like listening to music while chatting, sending and viewing HD videos and even giving you your own personal bitcoin wallet.
If you're looking for a new messenger that's fun to use, is very responsive and looks great all together I recommend you give Wiper a try. Signing up is easy to do and before you know it you'll be chatting with your friends (and deleting photos of you funny faces right after they see it!)