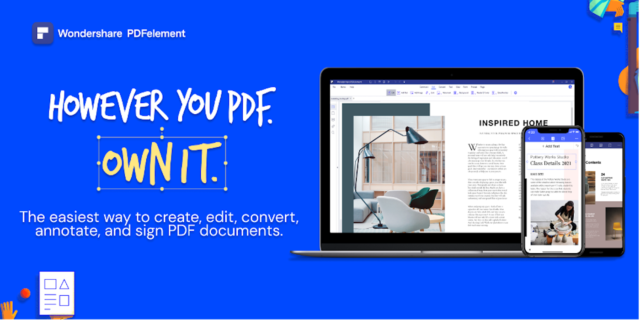 Wondershare PDFelement breaks the PDF editor mold by innovating and opening up a wealth of features you won't find in other programs.
You'll be impressed by how many things you can do with a PDF when you start using PDFelement as your go-to PDF platform.
Check out our Wondershare PDFelement review and see why it's the best all-in-one PDF solution in the market today.
What is PDFelement?
PDFelement is a collection of tools for PDF files. It's comprised of the following 'elements' – a PDF editor, PDF annotator, PDF creator, PDF converter, PDF protector and PDF forms in one.
PDFelement has support for more than 10 languages, and more in the near future. It boasts 2 million-plus users and up to 60 percent reduced ownership costs.
Forget having to buy several PDF tools to get all you need- the simple solution is to just get Wondershare PDFelement and be done with it. You save time and get powerful PDF editing abilities, among others.
PDFelement Features
Powerful PDF Editor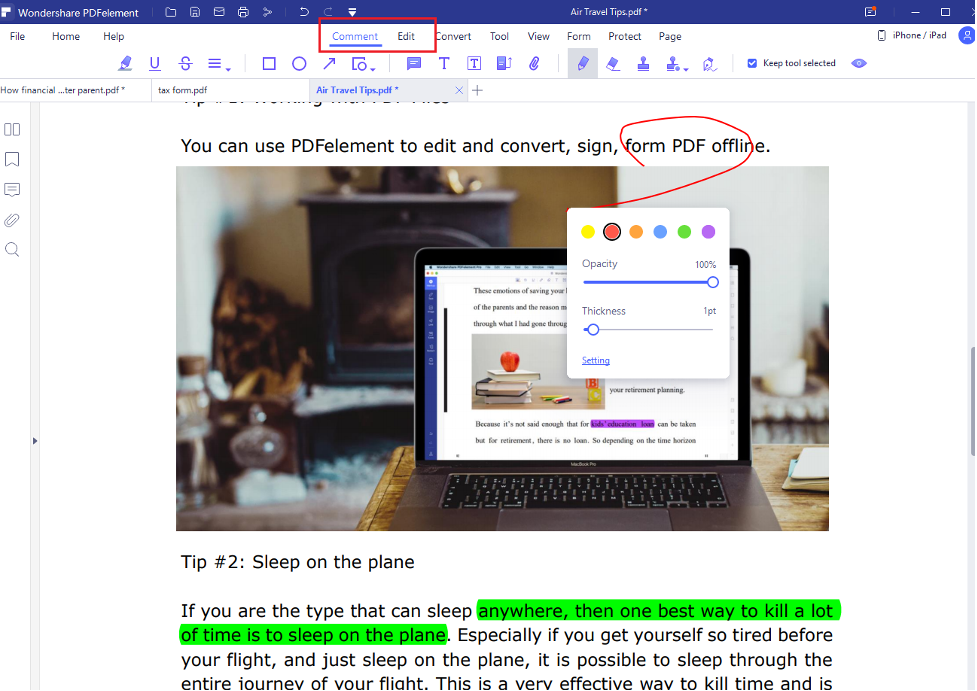 PDFelement is far superior than any PDF editor today. It works on both Mac and Windows computers and lets you edit to your heart's content without making the process too complicated.
As a PDF editor the software sports a nice, clean look. The interface is easy to understand and has everything you need within reach. For those who haven't used PDFelement you'll find that it takes only a half hour or so to get over the learning curve and start editing like a professional.
Advanced Annotator Tool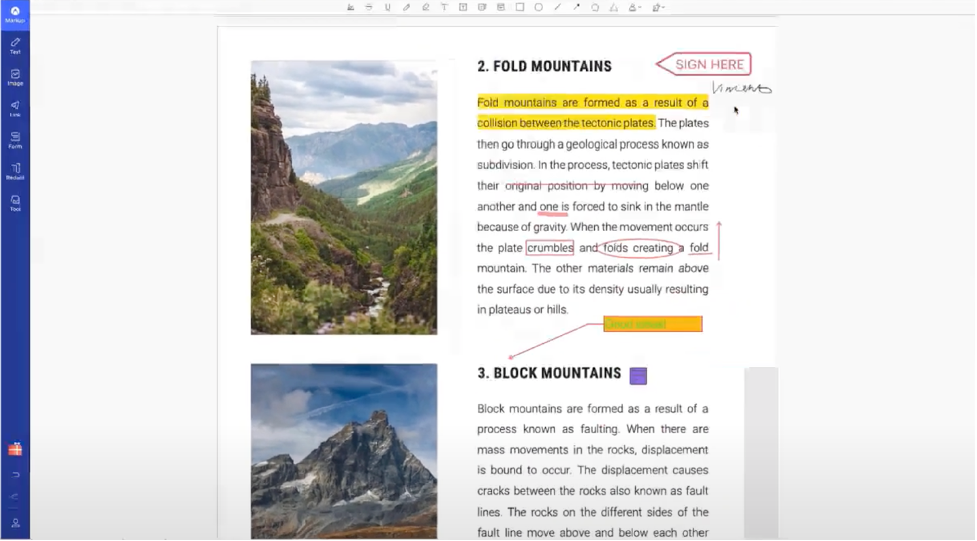 Annotations are one of the most common processes in a PDF solution, and PDFelement has done a great job of making the task easy to complete.
Other than using shapes, notes, underline and highlight you can add sticky notes, text boxes and more to create a truly unique PDF you can call your own.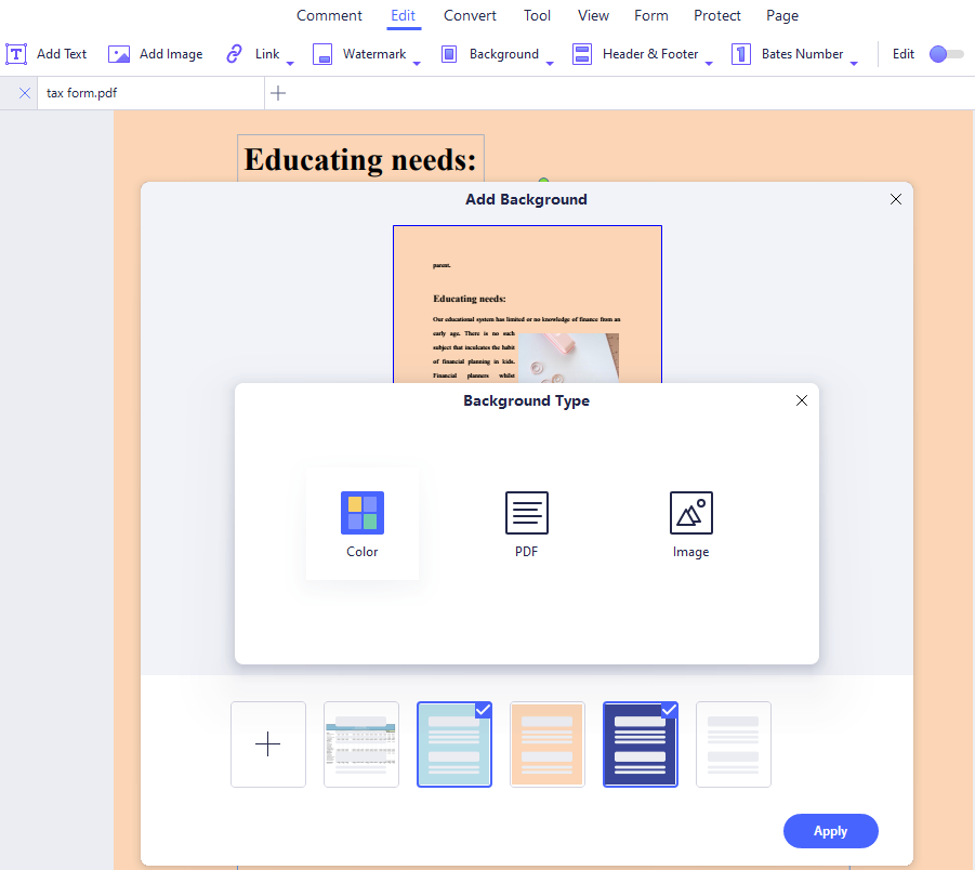 Every PDF you create is a work of art, and you won't be limited by the number of annotation tools. In fact, you can create virtually any design you want, from simple and minimalist themes to a visually striking manual without hitting a snag.
PDF Conversions Made Easy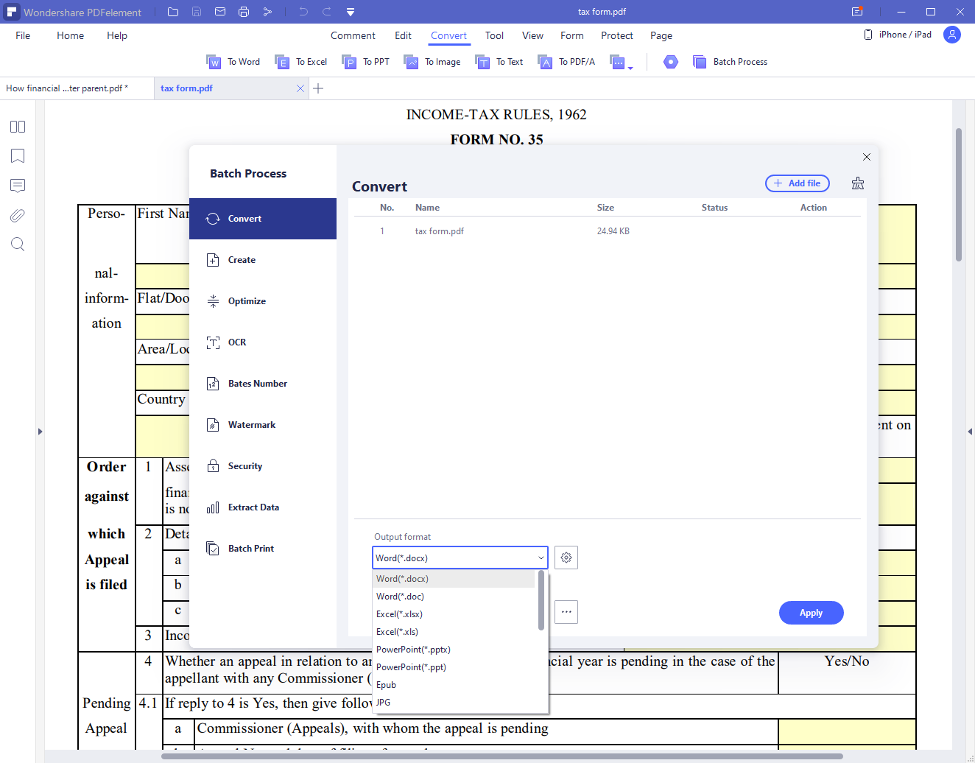 In just about every business converting a PDF is done on a daily basis. This goes the same with classrooms, offices and even homes.
It's true that PDF is the universal file format but there are times when you need to change for functionality, convenience and presentation's sake. It's not as easy as going for a rename, though- you'll need the help of a software for the conversion to be correct.
So let's say you need to change to Excel so you can do data analysis, dynamic table or enable calculations. In PDFelement, it's a matter of right clicking and choosing 'convert to…' then having PDFelement pick the output format.
Robust OCR Options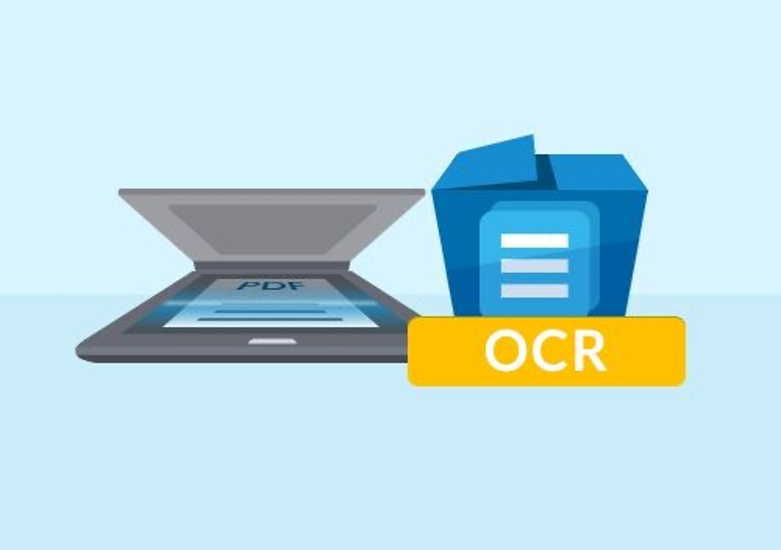 OCR, or optical character recognition lets you edit text in a PDF. While it's present in PDFelement you'll need to download the feature separately.
Once enabled, you can remove or add content in your PDF anytime. What's great about it is that you can do the same thing on several PDFs simultaneously, thanks to the software's batch processing functionality.
OCR is quickly becoming a must in any PDF tool, and you'll be wishing you have it sooner or later. If you're still using a mediocre PDF app then it's definitely time to switch.
Sign and Protect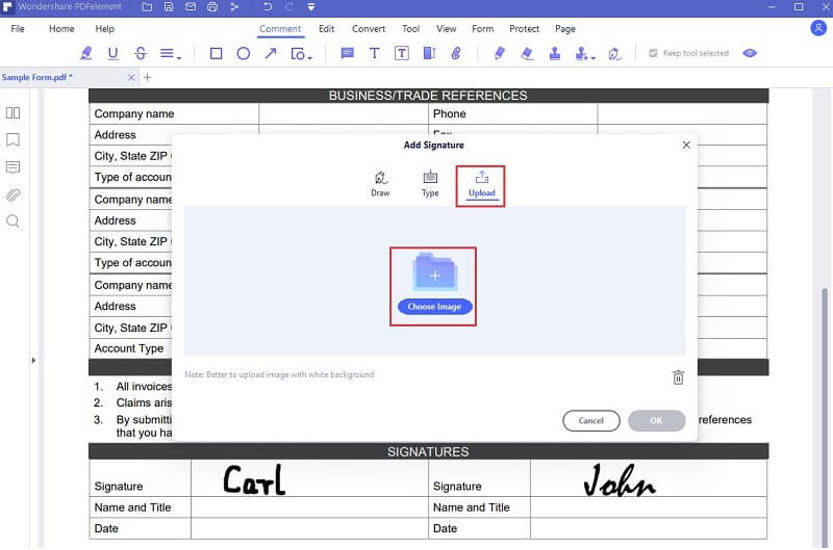 Adding a digital signature is easy if you're on PDFelement. You can create a stamp and use it anytime you want to have a signature put down on a PDF. In the same vein you can request for a digital signature and get it faster than having to send the paper document and back to and from the client.
As for security you can count on PDFelement to protect your finished PDFs from being edited, printed, copied or opened in just a few steps. You can create a password so they won't have an easy time unlocking your document and getting into the sensitive or personal details.
Full Support on iOS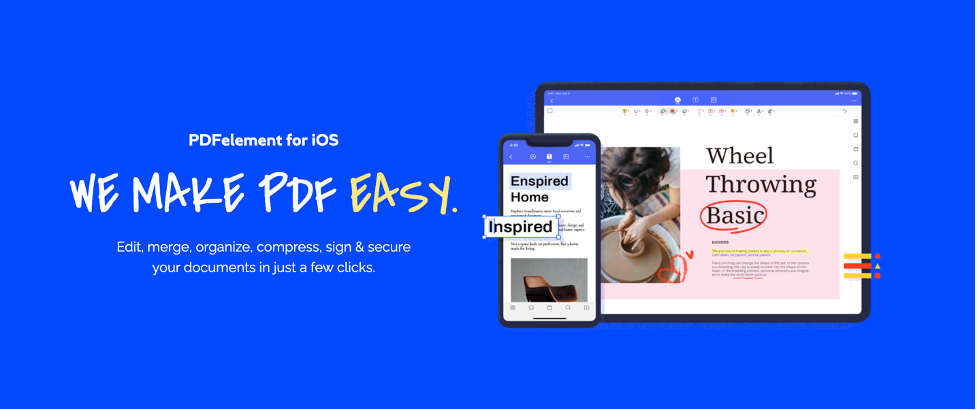 Mediocre PDF apps dominate the App Store, and it's really difficult to find one that works well on a smaller screen.
PDFelement is one of the easiest and most intuitive PDF editors for your iPad or iPhone. Its main functions cover everything from page management, signing and filling up forms, annotating, editing, reading and markups, and more.
What we really like is the fact that it has a cloud service, which allows you to collaborate anywhere and on any iDevice you have with you at the moment. Simply procure the document, do some edits and re-introduce it so the other person can sign or get it.
Also, the iOS PDF Editor has Dark Mode so you can work without straining your eyes in low light environments. Wondershare has even added Apple Pencil support for seamless PDF work and drafts on your iPad Pro.
PDFelement on iOS requires at least iOS 13.0 or later.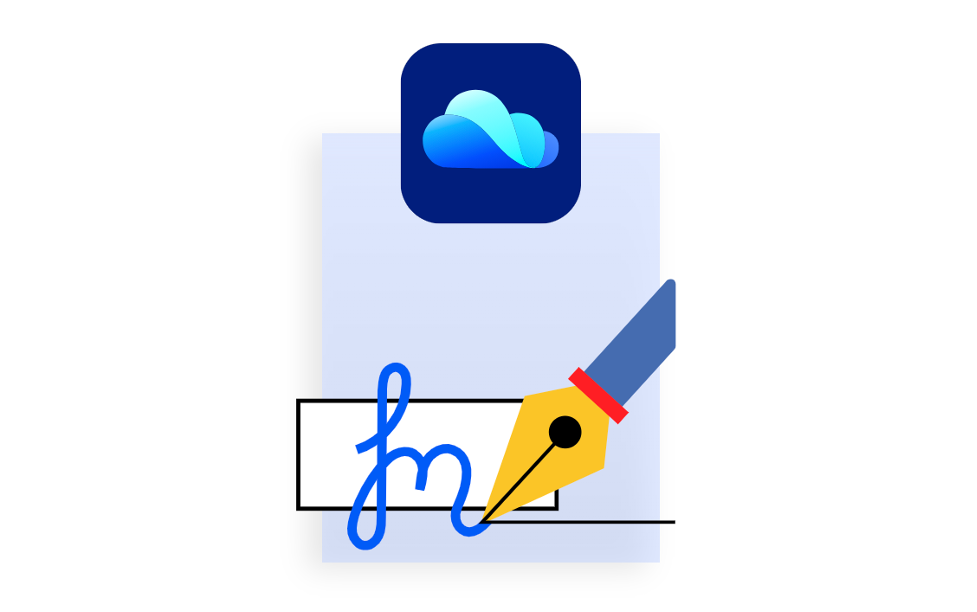 Elaborating more on the cloud service of PDFelement, did you know that you can store up to 100GB of PDFs to the cloud? These can be opened on any device, whether it be on your smartphone, tablet or laptop and with an internet connection.
The cloud eliminates the need to bring a single device or a flash drive with you, because now you can annotate or markup PDFs even when you're not at home or the office. The software also allows you to send legally binding e-signatures over the world wide web.
PDF Solution for Everyone. From Startup to Enterprise.
PDFelement is also an Enterprise-Level PDF Solution. It can easily manage offline/online authorization across complex enterprise networks with unified admin tools. Even the basic editing functions, as well as the functions commonly used in team collaboration such as: batch conversion, data extraction, team sharing, document creation and signature, User management, PDFelement can support.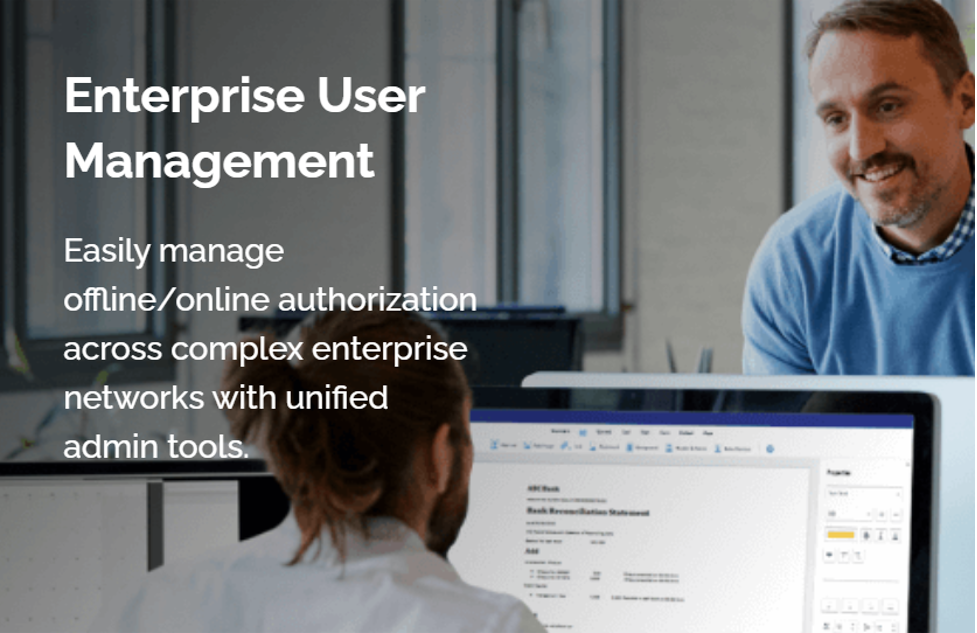 Save Discount When You Get PDFelement Today
Wondershare is giving away its PDFelement at a discount for Pre-sale, which is already a great value since it's one of the best PDF solutions in the market today.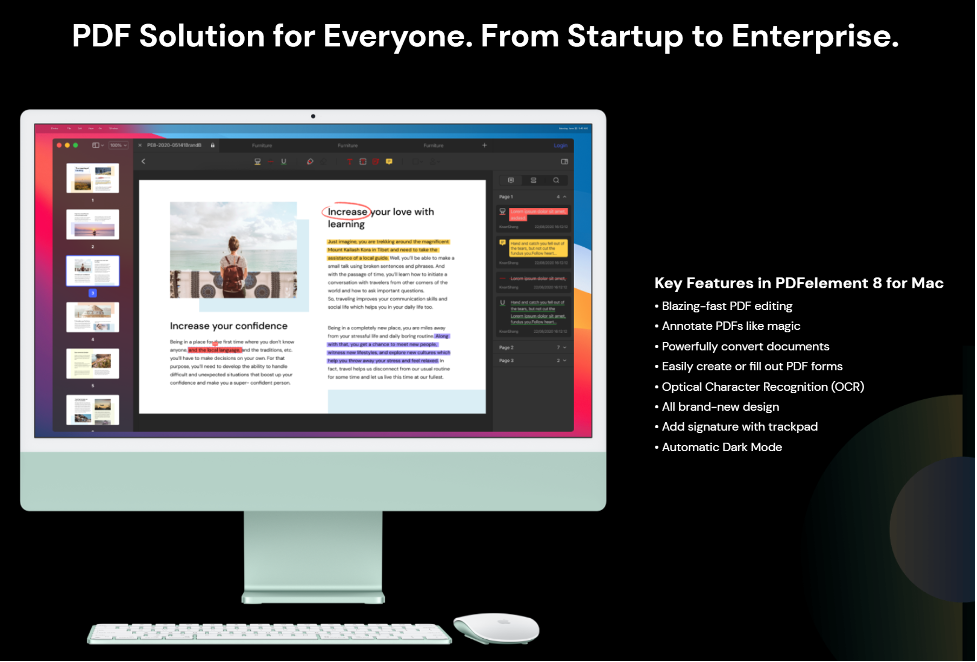 It supports all the features of:
• Blazing-fast PDF editing
• Annotate PDFs like magic
• Powerfully convert documents
• Easily create or fill out PDF forms
• Optical Character Recognition (OCR)
• All brand-new design
• Add signature with trackpad
• Automatic Dark Mode
The company offers these discounts on Windows, Mac and iOS, as well as add-ons such as Document Cloud. The 50 percent off even extends on Pre-sale or bundled deals, such as Mac+iOS+Cloud at just $129 a year.
Make sure to check out the best all-in-one PDF solution today!