XBEATS Music Puzzle – iPhone Game Review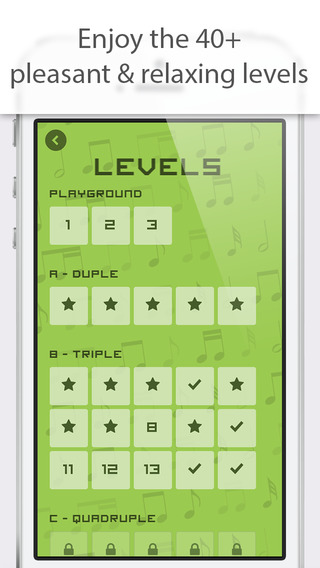 Developed by NOTES17 LLC, XBEATS is a musical puzzle game for iOS.
Using a minimum of moves, the goal is to move tiles to fill up the grid until each row has 2 beats.
Tiles are moved by tap-and-drag from the bottom of the screen onto the playing grid. You have only got a given number of moves to solve each puzzle. If you can do it in a very low number moves you'll earn a star.
XBEATS is a simple game to pick up but does require some basic music knowledge (specifically music notation). You'll have to be aware what a half beat looks like and all the variations that make up a full beat.
If you get stuck there's a hint button but it will cost you one move to use it, and there's also an undo button – but you can only use it a few times.
There are 40 regular levels in all and a special Challenges mode which is unlocked if you manage to complete all the standard levels. The Challenges mode is for people with some music knowledge and a love of puzzles.
A fantastic free download and a very challenging game, XBEATS has something for both the beginner and advanced music fan but will appeal especially to those who have experience playing the piano.
XBEATS requires iOS 6.1 or later. Compatible with iPhone, iPad, and iPod touch. This app is optimized for iPhone 5.