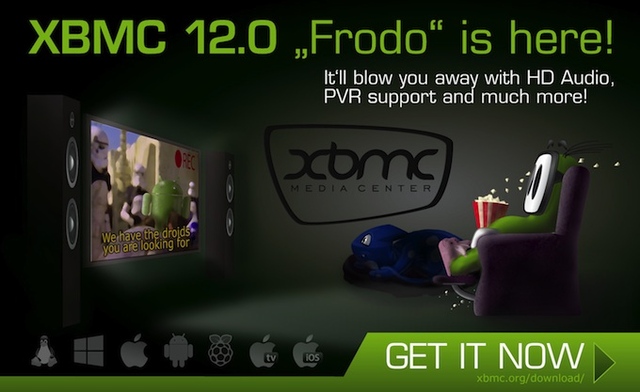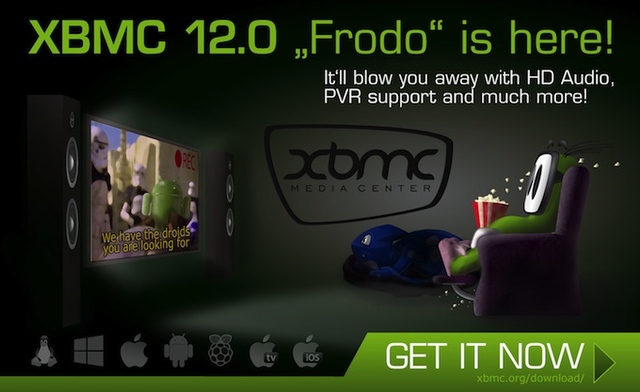 If you're a user of XBMC, then today there's some great news as there is a new version of of the open-source free XBMC 12.0 software called Frodo being released.
The new version includes a variety of new features including Live TV and a TV guide, as well as a radio feature. Also included in the update is a new HD audio engine that provides access to a variety of audio standards. In addition, there is improvements for the AirPlay implementation in XBMC as in the previous version this would often freeze. There is also support for AirPlay in Windows as well!
Version 12.0 of XBMC also brings support for a platform everyone has been waiting for. Raspberry Pi is now officially supported by Frodo. The $35 budget micro-pc has been the media streamer of choice for placing behind the TV given it's small form-factor and price tag, and now goes that one step further by offering full XBMC support.
Here's the full list of new features in 12.0:
HD audio support, including DTS-MA and Dolby True-HD, via the new XBMC AudioEngine (OSX/iOS not yet available)
Live TV and PVR support
h.264 10bit (aka Hi10P) video software decoding for anime
64bit support in OSX to match the 64bit support in Linux
Improved image support, allowing the database to accomodate numerous additional image types and more interesting and complex skins
Support for the Raspberry PI
Initial support for the Android platform
Improved AirPlay support across all platforms, including AirPlay audio in XBMC for Windows to match the other platforms
Improved controller support in Windows and Linux
Advanced Filtering in the library
Video library tags to complement movie sets
Advanced UPnP sharing
Default video languages now match the language being used by XBMC
Translations now powered by Transifex
XBMC 12.0 Frodo seems like an essential update for those enthusiasts using the software. Grab the update right here.