Online video has exploded. comScore's May 2010 report reveals just how dramatically this past time has changed our typical work day. According to their research, 84.8 percent of the total U.S. Internet audience viewed online videos at an average length of 4.3 minutes.
In total, users watched approximately 34 billion videos in May. YouTube surpassed 100 monthly videos streamed per viewer for the first time, shattering previous monthly viewership numbers with 14.6 billion total videos viewed. Here's the spread according to TechCrunch and comScore:
"Google Sites attracted 144.6 million unique viewers during the month (101.2 videos per viewer), followed by Yahoo Sites with 46.0 million viewers (7.3 videos per viewer), and Vevo with 45.6 million viewers (9.4 videos per viewer). Vevo grew again this month, and moved up the list one position in the May ranking taking the #3 spot with 45.6 million viewers and an average of 9.4 videos per viewer."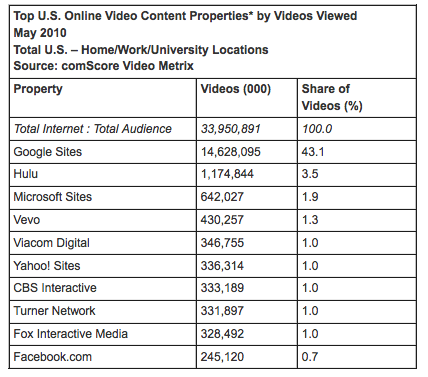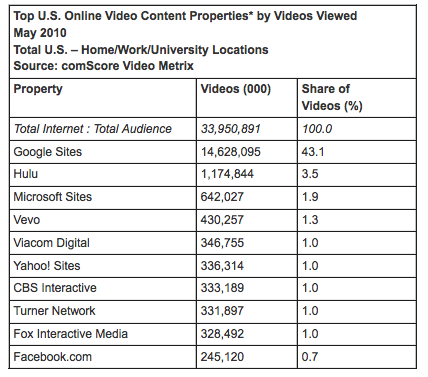 According to recent rumors, this isn't the end of YouTube's growth. While traffic is accumulating on live streaming sites like Justin.tv, UStream and Livestream, Tech Crunch has started to bubble about YouTube launching their own version of live streaming that expands beyond their already existing partners.
Digital tech writer Erick Schonfeld uncovered a screenshot in a YouTube help forum (below) that Max Haot, the CEO of Livestream believes might be proof that YouTube is planning to roll out more live streaming capabilities. If that's the case, it will be interesting to see what comScore's report reveals next month.