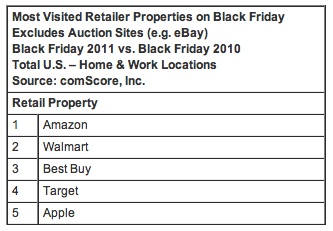 According to new data from research firm comScore, Apple was the fifth most-visited online store in America on Black Friday, trailing behind Amazon, Walmart, Best Buy and Target.
Apple reported its best ever sales figures for the 1-day shopping frenzy, with total sales of $816 million – up 26% on last year. Many of Apple's Black Friday sales are rolling on to Cyber Monday, with strong numbers expected.
The comScore report demonstrates a huge increase in the volume and value of Black Friday sales this year, with each of the top five retailers achieving double-digit gains on last years figures. Amazon was the number one online retailer by a wide margin, with a 50 percent more visitors than any of the competitors.
Given that Apple only deals in consumer electronics and the competitors carry multiple channels of products, its a very solid result for the company.