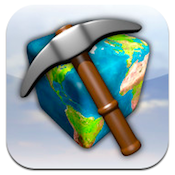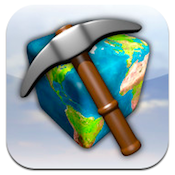 Price: $0.99 Score: 8/10 Category: Games
Whether you're a massive fan of Lego blocks or Minecraft, you've gotta check outBlock Earthfor iPad, developed by ChooFun Games.
Block Earth is a massive world that allows you to create blocks, build unique structures, and generally be the master of your domain. With easy to use controls and a vast array of building materials, these little cubes are sure to become your next addiction.
While it is compatible with small-screen devices like the iPhone, Block Earth was meant to be played on the iPad's large screen. On the iPad, digging and building to create your unique world is super simple.
Using your jet pack, you are able to fly above your creations and get a bird's eye view, or jump up on a tower of blocks that you have constructed to get a new perspective on your creation. The only downside is that you need to let your jet pack recharge between flights: no unlimited flying here.
Another cool feature? You can demolish stuff in the coolest way possible. A rocket launcher lets you blow up your creations once they've started to bore you.
However, I personally wish that there weren't so many in-app purchases. I'd rather pay a slightly higher rate up front and get all the cool extras included. Going through an extra step to unlock extra worlds and bonus features somehow limits my enthusiasm.
While the steering controls have recently been tweaked to be more responsive, I still felt limited in my ability to survey my domain. Block Earth for iPad is a good approximation of what makes people like Minecraft. If you want a chance to literally play God, check out the Block Earth app.
Block Earthis compatible with iPhone 3GS, iPhone 4, iPhone 4S, iPhone 5, iPod touch (3rd generation), iPod touch (4th generation), iPod touch (5th generation) and iPad. Requires iOS 4.3 or later.A small expedite fee was paid by the developer to speed up the publication of this iPhone game review.
For suggestions about future updates or just to post a screenshot of what you built; head over to ChooFun's Facebook page!
Tucker has written for Yahoo!, Lifehack, and Digital Journal. She also writes fiction.