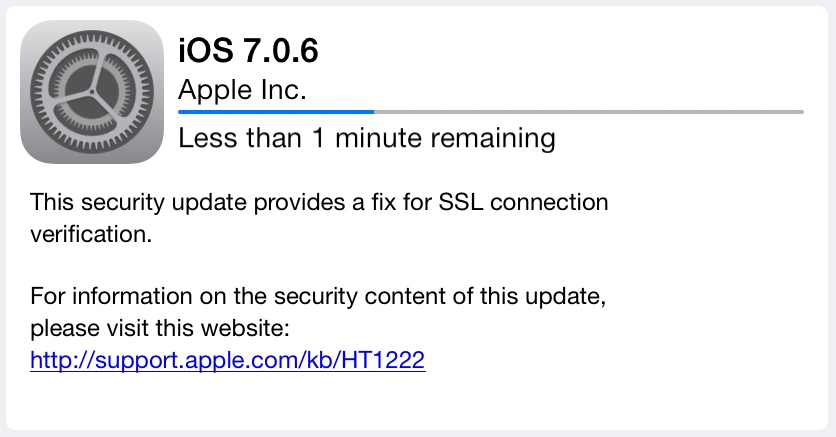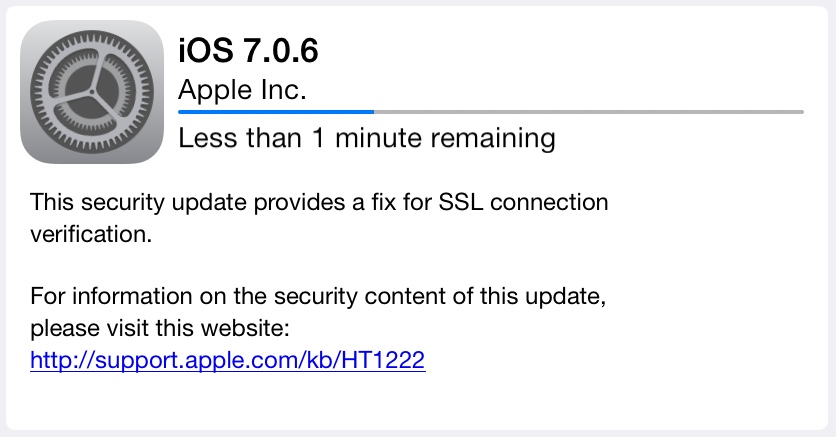 Looking forward to iOS 7.1 and those cool features? These iOS updates don't have any of that, sigh, not even a little. iOS 7.0.6 and iOS 6.1.6, which pretty much do one thing and one thing only, are available right here, right now.
Just three weeks after releasing iOS 7.0.5, which fixed a network provisioning issue in iPhone 5s and iPhone 5c configurations sold (legally) in China, Apple is back with another update. And, this latest pair of iOS updates is just as exciting.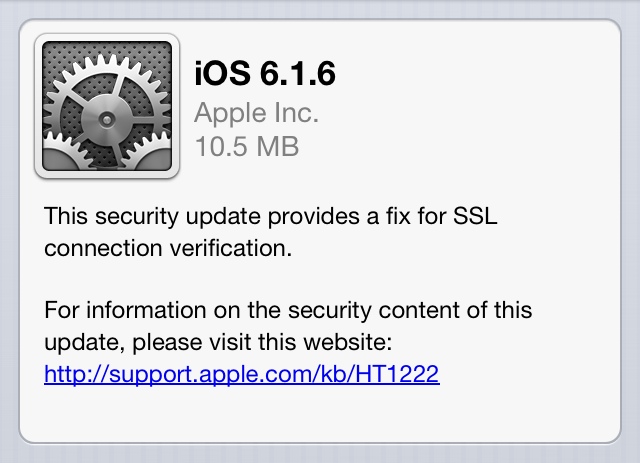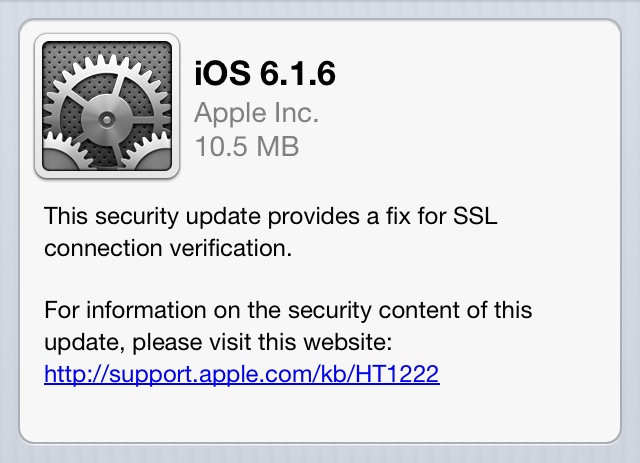 See also: Mavericks Update: OS X 10.9.2 Ships with Go to Fail Fix, More
iOS 7.0.6 and iOS 6.1.6 offer a patch for an obviously critical security issue — here comes some sizzle for your Friday — SSL connection verification.
Impact: An attacker with a privileged network position may capture or modify data in sessions protected by SSL/TLS

Description: Secure Transport failed to validate the authenticity of the connection. This issue was addressed by restoring missing validation steps.
With more than 80 percent of iPhone, iPod touch and iPad users already on iOS 7.0.x, most of us will be installing iOS 7.0.6. For iPhone 3GS and fourth generation iPod touch users, there is iOS 6.1.6.
As of this writing, no word on jailbreak compatibility of these updates.
iOS Update: v7.1 Coming in March
And, yes, iOS 7.1 is still expected to arrive on or about March 15. That said it is widely expected iOS 7.1 will deliver all or some mix of the following:
— Numerous mostly small user interface tweaks to make it easier to use, interact with iOS 7
— Updated virtual keyboard
— Updated look screen
— Improved Siri Voices for Chinese, Japanese, Aussies, Brits
— iOS in the Car, which extends iOS integration control in compatible cars
Obviously, we have to wait a bit longer before iOS 7.1 arrives — 'twas expected in March and, on that front, today's releases don't change anything.
So, should you install these iOS updates? Duh, iOS 7.0.6 and/or iOS 6.1.6 deliver security updates…
What's your take?
Via MacRumors