If a new report from DigiTimes is accurate, Apple may have trouble keeping up with demand for the new iPad 3 with a shortage of high-resolution displays set to cause significant retail delays.
Apple may not unable to ramp up the supply of its next-generation iPads (iPad 3), which are expected to be launched at a company event on March 7, due to insufficient supply of high resolution displays, according to industry sources in the supply chain.

Although Apple has chosen Sharp to replace Chimei Innolux (CMI) as one of its three suppliers for the high resolution (QXGA) panels – in addition to LG Display and Samsung Electronics, the whole supply chain has failed to substantially ramp up the supply of QXGA panels, the sources revealed.
Apple have had considerable difficulty with display suppliers for the iPad 3, with the initial manufacturing contract going to Sharp, and then being withdrawn when the company was unable to meet standards.
Sharp looks to be back on board as a supplier for the iPad 3, however Apple are now also sourcing their QXGA panels from Samsung and LG in an attempt to ensure adequate supply. While the iPad 3 will undoubtedly be unveiled at the scheduled March 7 media event in San Francisco, the retail launch may not proceed for several weeks if stock numbers are insufficient to support 'record breaking' volumes.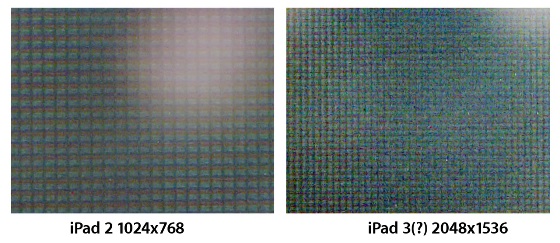 The iPad 3 display features an impressive 2048 x 1536 resolution, as evidenced by photo microscopy which shows a pixel density double that present in the iPad 2 (1024 x 768) – see image.