[app url="https://itunes.apple.com/au/app/leitmotifs/id674993930?mt=8″]
Developed by Klaus Brink, Leitmotifs is an iPhone application that brings together the 'motifs' of the 19th Century classical German composer Richard Wagner. With a huge volume of written music, the Leitmotifs app aims to categorise the operatic pieces that form "The Ring of the Nibelung" or simply, "The Ring".
When you first open the Leitmotifs app you're introduced to the various features via a short tutorial. The tutorial explains that the 'motifs' of Wagner are listed in the application in the order in which they first appeared and gives you information on how to best use the app.
You can listen to the short 'motifs' within the app – they have been played, as they were written, on a Steinway piano by German pianist Volker Kolmetz. Each motif lasts for 5-20 seconds on average and there are over 100 of them in all.
The app features links to iTunes which let you sample the music for ~30 seconds, but you'll need to purchase the track to obtain full access.
Leitmotifs also contains the story of the 'Ring' and further information on Wagner, his works and life.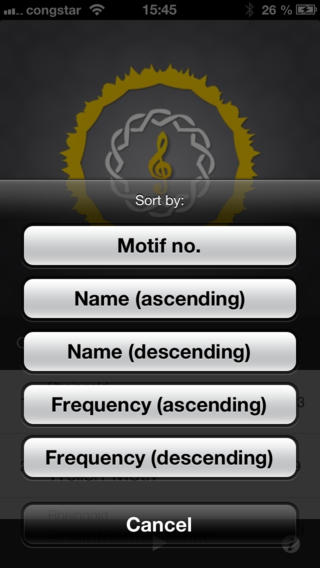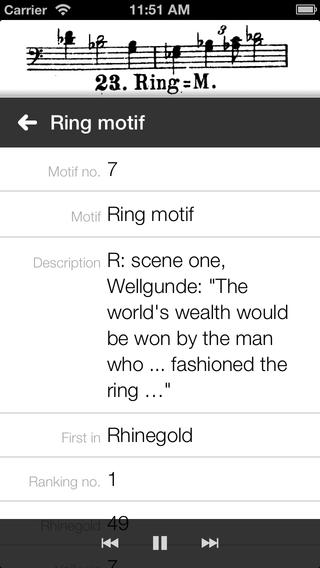 Leitmotifs is a unique app which will appeal to classical music enthusiasts, especially those who have an appreciation for and interest in the works of Richard Wagner. The app costs $7.49 and is available now for download on the App Store.
Leitmotifs requires iOS 6.0 or later. Compatible with iPhone, iPad, and iPod touch. This app is optimized for iPhone 5.