Last week, we came across an interesting bit of speculation which claims that we would be seeing the debut of the LG Optimus G Nexus before the month ends. With that date just a little over a week away, we've received information that may prove that the rumored October 29 launch date may just indeed be true.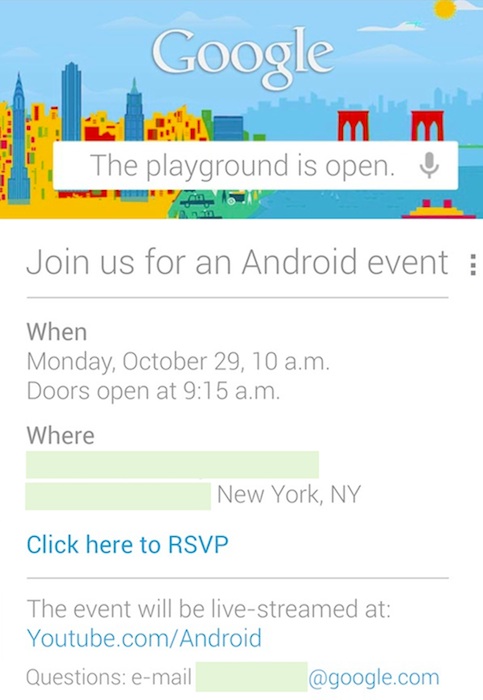 Google has started sending out events for an event happening on October 29 with a very interesting message — "The playground is open." From that alone, we can make all sorts of assumptions about Google giving us all new toys to play with, such as the next Nexus phone, the LG Optimus G Nexus. There are also murmurs of more than one Nexus phone being unveiled during the event. Could the mystery of the HTC Google Nexus 5finally be solved? We'll have to wait just two more Mondays to find out.
Its also possible that Google may be making announcements about their plans for the Google Nexus tablets such as the $99 and 32 GB variants of Nexus 7 and the high-end tablet collaboration between Samsung and Sonythat we've been hearing about.
While some people are hoping that the event will also give us a glimpse at the next version of their OS, Android 4.2 Fried Donut… ok, we made that one up… it seems highly unlikely considering Android 4.1 Jelly Bean is only 4 months old and device adoption hasn't even been maximized yet.
If you're looking to buy a new phone or tablet, it might be a good idea to hold off until October 29. Who knows what surprises Google has in store for its fans? That dream device you've been waiting for just might be one one of them.
Do you think Google will finally be pitching the LG Optimus G Nexus? Or would you want to see more than one Nexus smartphone phone during the event? Share your thoughts in the comments below!