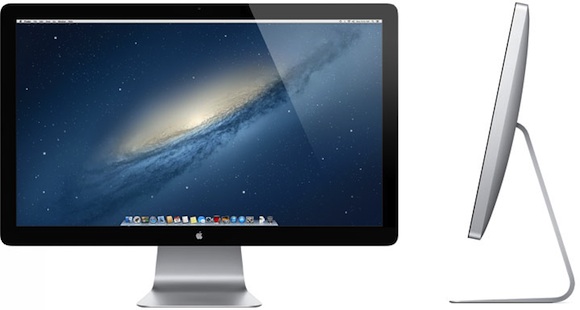 Apple Thunderbolt Display Release Date Imminent?
Multiple resellers have been reporting low stock levels of the Apple Thunderbolt Display, suggesting that an update to Apple's year-and-a-half old external display may be just around the corner.
As first reported by Apple Insider, a number of online retailers including Amazon and MacMall are completely out of stock of the current model Apple Thunderbolt Display. Historically, low stock levels and product unavailability amongst 3rd party resellers provide a hint that a refresh is imminent.
According to MacRumors, the average length of time between updates to Apple's external displays is 399 days, and it's now been 491 days since the last update and the release of the first Apple Thunderbolt Display.
It's likely that the new Apple Thunderbolt Display will feature a design very similar to that of the new iMac range, with a thinner and lighter form with a smaller bezel. It is also likely that the new Thunderbolt Display will come in the same 27-inch size as the previous model, and feature a FaceTime HD video camera, a 2.1 speaker system and single FireWire 800 port. Unfortunately, the manufacturing issues that have plagued production of the new iMac and caused significant shipping delays may also delay the new Apple Thunderbolt Display release date.
Other changes that we're likely to see in Apple's latest external display include a switch to USB 3.0 and MagSafe 2, which is now the standard across all Mac products. USB offers transfer speeds of up to 5 gigabytes per second – more than 10 times the speed of USB 2. Currently, all Apple Thunderbolt Displays are shipping with a MagSafe to MagSafe2 converter to ensure compatibility with the latest range of MacBooks.
The current model Thunderbolt Display (and the previous model Cinema Display) are still available for sale from the Apple store for $999.
When do you expect the Apple Thunderbolt Display release date to be? And what features are you hoping for? Let us know in the comments below.