Since promising back in iOS 5 that the notification center would be opened up to developers, Apple have almost delivered on the promise, despite not entirely allowing such access. Apps have access to display notifications in the notification centre, but it has not gone as far as to have been provided access to display widgets. That's where a Jailbreak really comes into its own, and the benefits are seen on a visual level. This particular tweak, PowerMusic MiniPlayer allows a widget to be placed in the notification centre of an iPhone, iPad, or iPod Touch allowing greater control over your music collection.
PowerMusic MiniPlayer places a music icon next to the time in the lockscreen which, when tapped, will display a widget on the lockscreen allowing the music to be paused, played or skipped. In addition, PowerMusic MiniPlayer includes gestures: double tap to play/pause, swipe left/right to next/previous song and swipe up or down to volume up/down.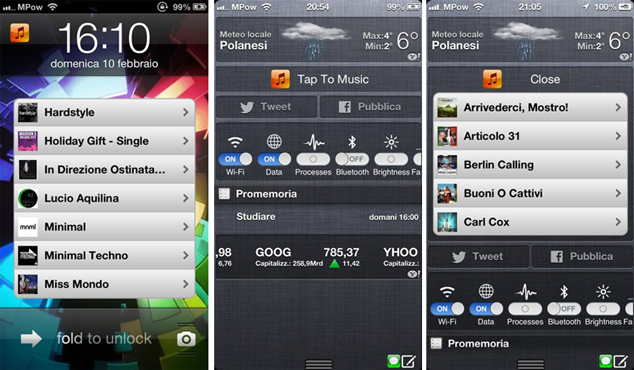 As mentioned, the Cydia tweak PowerMusic MiniPlayer includes a notification center widget allowing full control of your music. It really is a powerful useful widget.
If this is something you like the look of, and you've been longing for greater control of your music from not only the lockscreen, but also the notification center, then you can grab this tweak right now from the BigBoss repo in Cydia (preadded in Cydia by default) for only $1.00.
If you've taken the plunge to part with 1 whole dollar, let us know how you find the tweak and any improvements you may think of.