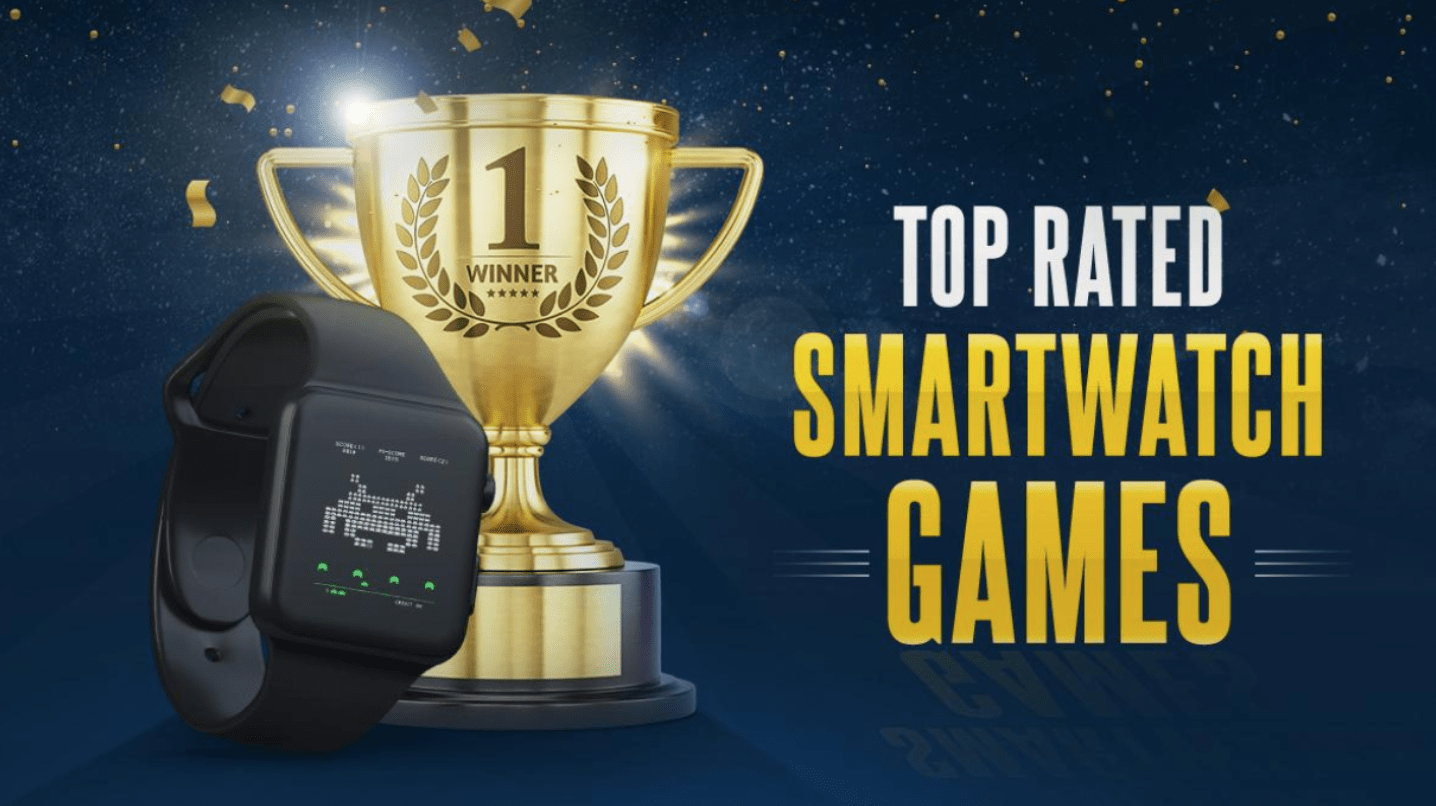 Top rated smartwatch games that can be found on the Google Playstore or iTunes. They are designed for a really small touch screen, the tap of your fingers, and just enough data quality. Note that not all can be found in the online stores and require to be downloaded from the developer website. At the end of this article there are some instructions on how to download and install smartwatch games that are not in the stores.
Invaders
Anyone that has had a passing interest in arcade games at some point in time, or has played a few, are well aware of the 1978 classic – Space Invaders. One of the most influential games of all time, that took the industry from a novelty to a global phenomenon and ushered the golden age of arcades.
Well, now you don't need coins to play it and you can use your wrist to control spaceships and fire at pixelated enemies.
Infinity Loop
Puzzle games are great, because they're usually simple in concept, yet challenge the mind. This entry to our list is no different and is a fun way to advance your logic skills.
The game presents you with a bunch of lines and the player is tasked with flipping them around until they form an infinite loop. Hence the name. Its mechanics are fairly simple. You just tap on stuff to flip them around and things get very relaxing and very addictive, fast.
Rubik's Cube
Speaking of puzzle games, what's more iconic than a Rubik's Cube?. The 3-D combination puzzle was invented by Ernő Rubik, a Hungarian sculptor in 1974, and was originally sold as – The Magic Cube.
There has never been a drought of Rubik's Cube emulators for any device, so why should smartwatches be an exception? The small screen can present an extra challenge as you have to zoom in sometimes to manipulate the block. As if putting the cube together wasn't hard enough already, but in the challenge lies the entertainment.
PaperCraft
This one is perfect for eating away those few extra minutes while you're on the bus, or in a waiting room. It's a minimal-looking title, set in space, where you fight off paper-crafted bad guys by dodging their attacks. It's remarkably playable on such a small device and is very fun.
While you won't likely find yourself immersed in it, it's still a great time-killer. It's also an open-source game. This means that you can download the actual source code of the game and do as you please with it. If that's of interest.
Lifeline & Lifeline 2: Bloodline
It's kind of hard to keep these two separated as both are revolutionary and thrilling. You don't find many smartwatch games with actual engaging storylines, but these two titles have just that. They're text-based RPG games that fall into the choose-your-own-adventure genre, and have achieved cult status within the community.
Other titles in the series include – Lifeline: Silent Night and Lifeline: Whiteout.
Runeblade
The first game of its kind to be available for a smartwatch. Runeblade is a hack-and-slash RPG title, where you participate in stat-based fights against AI opponents. The damage done is calculated by how fast you are at swinging your sword.
So, if you find the idea of killing dragons in a game with cartoony graphics exciting, this just might be up your alley.
Wear Shooter for Moto 360
There aren't many first-person shooters available for smartwatches, but it was only a matter of time before the genre added an entry. If you're a fan of these games, then you're probably used to far more advanced graphics then what you get here.
The game is crude-looking and it resembles mid-90s games such as Wolfenstein 3D and Duke Nukem. But, if you're the nostalgic type, maybe this could be a nice throwback and an enjoyable time.
Wearable Chess
Ah, chess. The game of kings. Aficionados know all about the battles of man vs machine. First came Belle, then Deep Thought, then Deep Blue, and then followed Fritz and Junior. Some of the best players in the world such as Kasparov and Kramnik challenged these chess-playing computers to varied results.
Today, you can play chess against AI on your wrist. And, if you're a techie, and want a sneak peek into the algorithm you're playing against, Wearable Chess is an open-source game, so that's an option.
If you crave true excitement from your smartwatch gaming experience, real money games can also be played. These are games of chance where players can make money.
Best Smartwatch for Games
If you're looking to purchase a smartwatch to play games on it, now and again, you might be a bit stumped as to what kind you should get. You may be asking yourself if Apple smartwatches are suitable for games, given their small screens? Or if ones that run on Android Wear are a good choice?
Well, one important thing you should know is that these devices rely on smartphones to deliver access to a lot of their functions. This might include games, which in turn means that the type of phone you have has an impact on how much you can get out of your watch. The Apple watches work only with iPhones, while the newest Android Wear can support iOS but in a limited capacity. Though, this is less of an issue now.
The Pebble watch is a unique option as it has full app support on both platforms. You also might want to look into other great brands such as Garmin, Samsung, and Casio.
How to Download Smartwatch Games?
Most of the games listed above can be downloaded from Google's Play Store, and Apple's App Store, depending on the smartwatch you own and the particular game. Though some games that are no longer available on Google Play have to be installed manually by downloading the Android application package. This is reserved for more tech-savvy users.
In the past, all apps on your watch had to be downloaded through your smartphone. In recent times, with the arrival of Wear OS and watchOS 6 that has changed. Today, watches can directly access these platforms and download apps immediately.
However, whenever you want to install a game on your smartwatch you need to follow instructions that are unique to the OS you're using and if you have a Pebble watch, know that games used to be downloaded through the "Pebble App" on Google Play and at the App Store, but the company ceased to exist and the app is no more. There are some alternatives to Pebble like Rebble.
Here are a few different methods and things to look out for when downloading games on your smartwatch:
1. Make sure you're connected
If you're trying to install an app from your computer, phone, or directly from your watch; first you need to be sure you're connected to a Wi-Fi network.
2. Downloading games from your computer and smartphone
Some people find it easier to browse on larger screens. That's why they visit the Google Play Store
and Apple App Stores through their computers or phones. These platforms have smartwatch sections, and when you choose to download an app, your watch will appear as a destination device.
3. Moving games from your smartphone to your smartwatch
Downloading apps on your phone doesn't necessarily download them on your watch as well. When you access the watch app on your phone, you can see a list of already installed apps and apps that are available for install on your watch. From there you can easily transfer them over.
4. Downloading games directly from your smartwatch
The easiest way is to directly access the desired platform from your watch and download your game of choice. You can search, browse, look through categories and recommendations.
Tizen devices (Samsung Gear S watches) allow for apps to be directly downloaded from the watch itself by going to the "Apps" icon in the menu, though the current app selection is pretty limited.