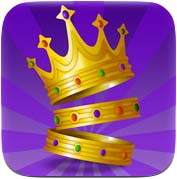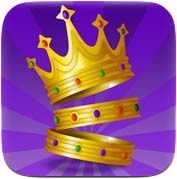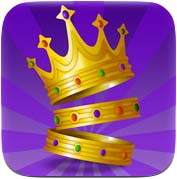 Price: Free    Score: 9/10   Category: Games
Stack King is a fast-paced tower-building arcade puzzle game from developer Appy LLC. With challenging levels, addictive one-more-time gameplay and elusive highscores, Stack King (iTunes Link) is a solid free-to-play game for iPhone and iPad.
There are currently a total of 7 levels in Stack King (with more to come), and the basic objective of each level is the same – to build the highest tower you can. The game starts out with 5 'blocks' which move back and forth horizontally and you've got to tap the screen to 'lock' them in.
Once done, a new row appears on top and you have to lock that one down while trying to make sure all 5 of the blocks in the new row end up on top of the blocks beneath. If you under or overshoot, you lose a block and the next row will only have 4 blocks, then 3, then 2 and so on. When you're out of blocks, the game's over.
It's a simple concept, but the game gets increasingly harder the higher your tower gets, with the speed increasing as you climb skywards.
Essentially, the higher you stack, the higher your score. You earn bronze, silver, gold and platinum medals by reaching predetermined heights, and these medals are needed to unlock the next level and a special 'King Mode' if you can achieve platinum. Getting the really high scores means getting lots of combos, which requires extra accuracy when placing your stacks.
Each of the 7 levels is uniquely themed with its own original blocks and graphics, but the gameplay is basically the same. For each level you can get immediate feedback on your performance, with your leaderboard ranking visible on the score card – it's a great motivator to go for the high scores.
Bottom Line: Stack King is simple, addictive game-play at a price you can't argue with.
Stack King is compatible with iPhone, iPod touch, and iPad. Requires iOS 4.2 or later. A small fee was paid by the developer to expedite the review of this app.