Apple has launched three individual 'iWork' applications for the iPhone and iPod Touch, bringing the productivity programs to the full range of iOS devices. Similar to the apps on the Mac and iPad, the iOS apps retail for $9.99 each and are available in the iTunes App Store.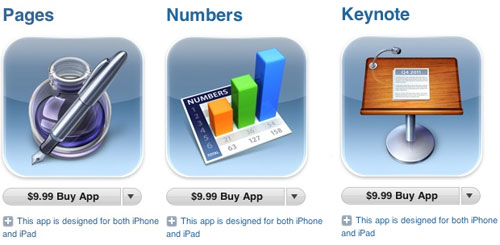 Apple has reportedly been working on the 'iWork' apps for iPhone and iPod Touch since late last year. The apps are compatible with the majority of iOS devices including the 3rd and 4th generation iPod Touch, the iPad 1 and 2, and the two most recent iPhones.
Given the potential iCloud offering which Apple plans to reveal at WWDC on June 6, it will be interesting to see if Apple will take advantage of document syncing between the two platforms. Apple currently offers document sharing through iWork.com, a beta service, but it is still unclear if the iCloud domain will support other application formats other than audio.