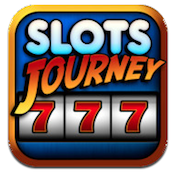 Price: FREE Score: 9/10 Category: Games
Slots Journey is an iPhone game developed by Murka/Fishsticks Games. The game is free to download and free to play, with free coins given to players every hour. However, users can also pay real cash to buy in-game currency like coins, or items like boosters.
Slots Journey isn't just a euphemistic title: users can beat each destination-themed level to unlock new slots challenges. "Locations" in the game include Egypt, China, Greece, Texas, Transylvania, and Australia.
New locations will be available in future updates. Each "country" is divided into various stages: beat them all, and you can move on. Each country has its own soundtrack that adds to the atmosphere and tension of the slots game.
You will start the game with 400 coins. The default bet is 5 coins, though the max bet you can put down will change over time. Unlike many other slots games I've played on the iPhone, Slots Journey seems to give you more than enough coins to keep on playing for some time.
Maybe I just hit a "lucky streak," but I was on to the next level shortly: winning easily translates into happy gamers, and it's nice that this game captures all of the fun and none of the frustration of a real slot machine.
A word of caution to iPhone 5 users: customer reviews on iTunes seem to indicate that despite a recent update, Slots Journey has some display issues on the iPhone 5 screen and has yet to be properly optimized. I played Slots Journey on an iPhone 4S, and didn't face that issue. Any readers out there with play this on an iPhone 5, please chime in and let us know what issues (if any) you experienced!
While there are some minor annoyances, such as the pop-up ads that appear during gameplay, Slots Journey is still one of the best slot machines I've played on my iPhone.
With a game screen that's easy for even a novice to comprehend, a progress bar to track your advancements, and a great visual panache, this is one slot app that comes highly recommended. Slot lovers, download this game now!
Slots Journeyis compatible with iPhone, iPod touch, and iPad. Requires iOS 5.0 or later.