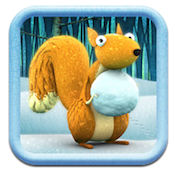 Price: FREE Score: 9/10 Category: Games
Snow Brawlin' is an iPhone game developed by Ghost Hand Games, LLC. Instead of getting icy fingers from snowball fights this year, why not take your snowball fights into the virtual sphere with this very cool title?
In Snow Brawlin', you play as an adorable squirrel named Risoo. A gang of rogue rodents wants to take over your turf, and nuts are in short supply. Your goal: throw snowballs at the other squirrels that inhabit this winter wonderland to get them to back off. There's just one problem: your enemies have snowballs, and they have deadly accurate aim.
The controls are perfectly calibrated. Everything is wonderfully responsive, but not so responsive that the controls are touchy and hard to use. You tilt your device to move Risoo laterally from behind his bunker, and tap the screen to launch snowballs at your enemies.
After each game, you'll be presented with stats like your total score, level, total time, and longest streak of uninterrupted hits. While this screen (and the main screen) are ad-supported with a big banner ad along the top of the screen, the actual game has no ads along the top of the screen, which is great.
Upgrade with In-App Purchasing for 99 cents, and you'll get:
• Store Unlimited Arctic Blasts
• Double The Power-Ups
• Extra Life Drops
• Ad Removal
Snow Brawlin's is one of the most fun time wasters I've played all month, and it's definitely worth checking out. Whether you're looking for a game to amuse your kids during long car rides to Grandma's house during the holidays, or want a fun game to distract yourself with, Snow Brawlin' is a brrrrilliant choice for mobile gamers of all ages.
Snow Brawlin'is compatible with iPhone, iPod touch, and iPad. Requires iOS 4.3 or later. This app is optimized for iPhone 5.