The music industry is able prosper again with the help of streaming services. Online piracy made huge strides, leaving music sales on online platforms like iTunes seeing bare number of users, Cassettes and CDs eventually died as they were speculated to, with rise of the internet.
Spotify, the Swedish company was the first to make a dent in the music industry with its sophisticated streaming services. Of course, others followed as that was the way to go. Apple Music which started its operation just under three years ago, has already taken a huge share of the market that Spotify created.
Other players include Google Play Music, Tidal, Amazon Music, and many more. YouTube appears to be working on joining their ranks with a new service called "YouTube Music". The service is supposed to combine the efforts of Google's Play Music and current YouTube Music. The specifics of, how the service will work, aren't out yet; YouTube's premium "Red" service could also play a major role in the creation of its new music streaming service.
It may take some time before the service is rolled out to everyone. To fill the gaps till then, a Reddit user c2fifield shared, previously assumed to be potential pictures of the streaming service which have later been confirmed by YouTube as to be original.
YouTube also went an extra mile with a comment, "We're always working to improve YouTube Music and ensure it's the best possible experience for users. We're glad users are enjoying the update to the player page".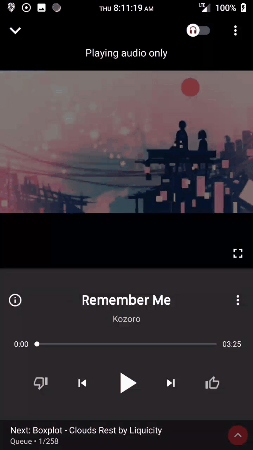 The photos posted by c2fifield shows that the new app will keep YouTube's basic design elements which according to me, is not healthy for an app that serves a different purpose. While Spotify and Apple Music focusing on providing a sophisticated UX, it's sad to see that YouTube isn't doing anything new.
These are just my initial thoughts from the pictures posted on the web. The experience could be different when I actually use it, so I'll save an actual review for later use.