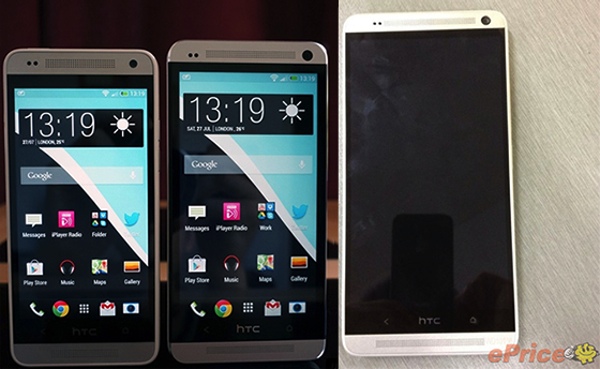 People like phablets. Well, some people like them and HTC is said to be gearing up to take a piece of that market with a nearly 6-inch variant of their popular of their flagship smartphone. The HTC One Max not only has a bigger display, but also a whole lot more processing and battery power to pump out all of those pixels.
Visually, at least, the 5.9-inch HTC One Max is a beefier big brother to the 4.7-inch One. However, that great big display requires significantly more umph to make the device workable.
The HTC One Max includes a quad-core 2.3GHz Snapdragon 800 SoC, 2GB RAM and 3,300mAh battery. Additionally, a dual-SIM variant is believed to testing in China that has a removable back panel — current HTC models are sealed.
The Taiwanese smartphone maker is also thought to be toying with building 64GB of flash storage into the HTC One Max, though 16GB is expected to be the base configuration.
If the HTC One Max does indeed come to market, HTC will offer three HTC One variants, including the One, Mini and Max, as well as the country-specific models sold in China and Japan. HTC also offers a GooglePlay edition.
Rumor has it that the HTC One Max will ship sometime in September, pitting it against Apple's expected iPhone 5C and perhaps iPhone 5S launches.
Androids, Androids Everywhere
If you think HTC's One machinations are confusing consider that Samsung sells at least 13 variants of the Galaxy S4 alone — just a few data points in the raging Android fragmentation issue. Then again, with Android market share somewhere near 80 percent worldwide, how much of a problem is it really?
Have you been waiting for the HTC One Max? Still not big enough for you?
Sound off in the comments below…