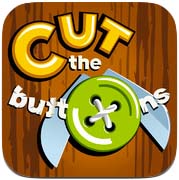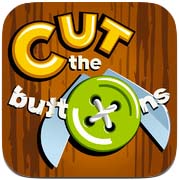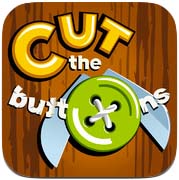 Price: $0.99    Score: 9/10    Category: Games
Developed by Open Name Ltd, Cut the Buttons for iPhone and Cut the Buttons HD for iPad are new and original cut-and-slice titles that features arcade gameplay with a hat-tip to iPhone favorite Fruit Ninja.
Using the on-screen scissors and a two-fingered pinching motion, you cut off the sewn-on buttons from flying scraps of fabric and attempt to collect them in the container below. As the buttons fall, you've got to use your other hand to move the container from side to side. As you can imagine, there ends up being a lot of fingers on screen. It's fast and frantic, but it's fun.
If you can manage to cut off multiple buttons in one slice you can rack up some nice combo points. But it's not all mindless slice-and-dice. If you try and cut off a button with a metal screw in it you lose points, and if you miss a sewn-off button and it falls away off screen you lose a life. Lose 3 lives and it's game over.
By default, the scissors are set up for a right-hander but you can swap the scissors to the other side on the home screen if you're a lefty. Cut the Buttons features two game modes – Arcade and Classic. Arcade is a fast-paced race against time to get the highest score, while Classic only ends when you lose all 3 lives.
The visuals, animation and music in Cut the Buttons are all extremely polished and the game itself is challenging and enjoyable. Highly recommended.
Cut the Buttons is compatible with iPhone, iPod touch, and iPad. Requires iOS 3.2 or later. A small expedite fee was paid by the developer to speed up the publication of this review.